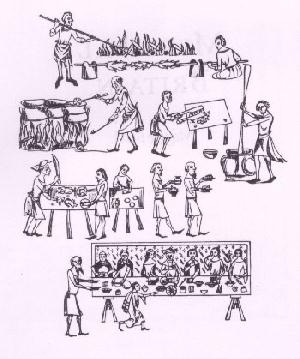 All the best magazines have a recipe page and so assemblage is proud to unveil, in the time-honoured tradition of "Woman's Weekly", its food and drink page with an archaeological theme. This issue we provide a handy guide to Roman and Medieval cookery, plus prehistoric brewing for beginners. Read on and be amazed.
Illustration taken from the Luttrell Psalter
---
Roman CookeryPage
The Romans are well known for their extravagant feasting practices, most infamously, the habit of stuffing themselves, vomiting, and then coming back for more. While we wouldn't wish to recommend such excesses, here are a few of the more appealing concoctions, including that highly unusual delicacy, rotten fish pickle, which, one suspects, you would need to be an ancient Roman to fully appreciate.
(All recipes taken from "The Roman Cookery of Apicius", translated and adapted by John Edwards, published by Rider Books in 1984.)

Garum (Fish Pickle)
The preparation of garum begins with the gills, intestines and blood of the mackerel. This is put in an open jar and saturated with salt. Vinegar, parsley, wine and sweet herbs are added. This mixture is then exposed to the hot sun until the fish parts rot down into a liquid, resulting in a thick sauce. After two or three months, the sauce is ready to be bottled and used.
We'd be interested to hear from any readers who have tried making this dish. Please do write in from your hospital beds.

Or how about this for that special dinner party:
Trimalchio's Feast (Petronius, Satyricon)
Gustatio (Hors d'oeuvres)
White and black olives
Damsons and pomegranate seeds
Dormice sprinkled with honey and poppy seeds
Grilled sausages
Beccaficos in spiced egg yolks
Honeyed wine
Fercula (Prepared dishes)
Foods of the Zodiac served on a round plate (on the sign of the Ram, chickpeas; on the Bull, beef; on the Twins, kidneys; on the Crab, a crown of myrtle; on the Lion, African figs; on the Virgin, a sterile sow's womb; on the Balance, scales supporting tarts and honey cakes; on the Scorpion, a scorpion fish; on the Archer, an eyefish; on the Goat's horns, a lobster; on the Waterbearer, a goose; on the Fishes, two red mullet) served with bread and surrounding as a centrepiece:
Roast fattened fowls, sow bellies and hare
Roast whole wild boar with dates, suckled by piglets
– made of cakes stuffed with live thrushes
Boiled whole pig stuffed with sausage and black puddings
Served with Falernian wine 100 years old.
Mensae secundae (Dessert)
Fruits and cakes
Boned, fattened chickens and goose eggs
Pastries stuffed with raisins and nuts
Quince apples and pork disguised as fowls and fish
Oysters and scallops
Snails

Those of you on a budget might like to try these:
Dormice
Stuff with pork mincemeat, minced dormice from all its parts, pepper, nuts, laser and stock. Stitch up the openings and put the stuffed dormice on a tile and roast in an oven, or bake them, stuffed, in a clay oven.
Grilled Sterile Sow's Womb
First roll the womb in bran and then steep in brine. Cook.
Rose Hips and Calf's Brains Custard
2 c. young rose hips                         1/4 c. vegetable stock
1lb cooked calf's brains chopped             1/2 t. ground pepper
8 small raw eggs                             1/4 c. red wine
1/4 c. sweet raisin wine                     1/2 c. vegetable stock
2 t. olive oil or butter                     ground cinnamon
Cook the rose hips for 5 mins in a little water, drain them, and grind to a pulp in a mortar. Add stock and strain together through a fine sieve. Take the finely chopped brains and season with pepper. Combine with rose hip juice. In a separate bowl, combine well beaten eggs, wine, sweet wine, stock, oil or butter. Mix brains, seeded rose hips, and sauce together, and pour all into a greased baking dish. Cook at 350 F for 30 mins or until firm. Sprinkle with finely ground cinnamon and serve.
Should you wish to sample this delectable dish, you can get your calves' brains from any reputable slaughter house. Then again, perhaps not.....
Of course, not all roman cooking is about offal and rotten fish. Here's what we recommend for those of vegetarian inclination.
Vegetable and Lentil Soup Roman Style
1 c. chickpeas                                 1 c. lentils
1 c. green peas                                1/2 c. barley (pre-soaked)
10 c. water                                    2 T. olive oil
2 heads of leeks finely chopped                1/2 t. coriander
pinch of aniseed and fennel                    1/2 c. beets, diced
4 grape or mallow leaves, chopped              1/2 c. chopped cabbage leaves
1/2 t. oregano                                 pinch of fennel
pinch of celery seed or lovage                 1/2 t. honey
1/4 c. cabbage leaves, chopped
Soak barley for 24 hours in water, then rinse. Into a pot put chickpeas, lentils and peas. Add drained barley to the legumes, together with water and olive oil. To this add heads of leeks, coriander, aniseed, fennel, beets, grape leaves and cabbage leaves. Cook gently over low heat for at least 3 hours. One half hour before soup is cooked, grind together oregano, fennel and celery seed, and add to soup. Stir. Simmer 1/2 hour and serve with garnish of chopped cabbage leaves.
Cinnamon Sweet Cakes
1 1/4 c. pastry flour                       1 t. baking powder
1/2 t. ground rosemary                      1/3 c. almonds chopped
1 t. cinnamon                               1/4 c. sweet raisin wine
1/4 c. grape juice                          2 T. honey
milk
filberts or hazlenuts
Mix flour with baking powder. Blend with rosemary, almonds and cinnamon. In a measuring cup combine sweet wine with grape juice and honey. Add milk to make 1 cup of liquid. Mix with dry ingredients and bake in a 9 inch round pan in a 375 F oven for 30 mins. Garnish with roasted chopped nuts and serve. For a richer variation, lightly spread liquid honey over the warm cake and decorate with chopped nuts. Then prick the surface here and there with a fork and drizzle 2-3 T. of wine into the cake.

All this leads one to imagine that the demise of the Roman Empire may have had more to do with gout and obesity than with barbarian invasions.

Here are a few related roman cooking sites if you are interested in more creative cooking:
Roman Orgy Page!, De Re Coqvinaria and Antique Roman Dishes Collection
Back to the top
Not to be outdone by roman excesses, the medieval aristocracy knew a thing or two about throwing feasts themselves. Here's one we prepared earlier...
(All medieval recipes taken from "A Taste of History: 10 000 Years of Food in Britain", edited by Maggie Black, published by English Heritage,1993.)
Dressed Swan
The bird was presented upright on its nest, the head held erect by a rod or skewer thrust through the mouth, down the throat into the breast. The swan was presented garlanded and crowned, on a silver or gold stand, with its wings erect, neck arched backwards, head erect. The instructions are as follows:
"Kutte a Swan in the rove of the mouthe toward the brayne enlonge, and lete him blede, and kepe the blode for chawdewyn; or elles knytte a knot on his nek, And so late his nekke breke; then skald him. Drawe him and rost him even as thou doest goce in all pyntes, and serue him forth with chawd-wyne."
Chawdron was a special sauce for swans. It was made of the bird's own guts, cut small and boiled in broth with its blood and vinegar and strong spices. It looked blackish and was served hot.
Swans may not be the most easily accessible food for the modern lifestyle (unless you happen to have a few in your local park pond, but then there's the inconvenience of catching them under cover of darkness). The following recipes have ingredients more readily available at your average supermarket.
Hot Wine Beverage
1/2 pt (275ml) water
1 1/2 pt (850ml) white wine
8 oz (225g) ground almonds
1/2 tsp ground ginger
1 tsp clear honey
pinch of salt
pinch of saffron 
Bring the water and wine to the boil in a saucepan. Tip in almonds, add ginger, honey and salt. Stir in saffron and leave off te heat to steep for 15-30 mins. Bring back to the boil and serve very hot in small bowls.
Honey Toasts with Pine Nuts
8 oz (225g) stiff honey
pinch of ground ginger
pinch of cinnamon
pinch of black pepper
4 large slices white bread, crusts removed, 1/2 inch (10mm) thick
1/2 oz (15g) pine nuts
Put honey, spices and pepper in a small saucepan over very low heat. Melt honey and simmer for not more than 2 minutes. Do not let honey boil or darken. Let it cool slightly. Meanwhile toast bread lightly on both sides. Cut each slice into four small squares or rectangles. Place on a heated serving plate and pour honey over it. Then stick pine kernels upright in each piece, like small stakes. Serve quickly while still hot.
Pears in Wine Syrup
3 large dessert pears
10 oz (298g) mulberries or loganberries
1/2 pt (275ml) red wine
1/4 pt (150ml) sweet Italian white wine
1 oz (25g) white sugar
pinch of ground ginger
pinch of cinnamon
pinch of black pepper
Peel pears but leave them whole. Gouge out the hard cores if you wish. Put pears and berries in a saucepan and pour red wine over them. Simmer until pears are tender, turning them often to colour them evenly. Cool in the liquid, turning them from time to time to deepen the colour. Drain, reserving the liquid. Cut the pears in half or quarters if you wish. Sieve soft fruit and return to the pan with the cooking liquid. Put the white wine, sugar and spices into a clean pan. Boil to 215 F (105 C) or until you have a fairly thick syrup which will glaze the fruit. Add the pears, bring back to the boil, and cook for 2-3 minutes. Serve hot with warmed sieved fruit and red wine as sauce.
Next issue – medieval peasant cooking, including recipes for black bread, pease pudding, stew, more black bread, stew and pease pudding. Hmmm. Can't wait.
Here are some more pages of medieval cooking to tickle your tastebuds:
Medieval Recipes and Collection of Medieval and Anglo-Saxon Recipes
Back to the top

Prehistoric Brewing Page
Our intrepid reporters here at assemblage Fun Page corner have been scouring the length and breadth of the country for tips on prehistoric brewing. Well, we didn't find any. However, here are our recommendations for the best prehistoric beverages around.
Fraoch Heather Ale
According to the advertising it is "Scotland's native ale... brewed in Scotland since 2000 BC and is one of the oldest styles of ale in the world. Brewed from heather flowers and Scottish malt it has a distinctive floral and peaty aroma, full of malt character and a dry wine-like finish". Apparently, the Pictish civilisation created symbolic artwork and brewed the legendary heather ale until the 18th century when the English prohibited the use of ingredients in beer other than hops and malt. The recreation of the Pictish recipe is based on a 16th century Scots Gaelic recipe using traditional techniques and local materials.
assemblage reporters (strictly in the interests of research only, of course) tried this brew and gave it top marks for drinkability.
---
Egyptian Brewing courtesy of Newcastle Brown Ale!
The following webpage offers a look at the Egyptian brewing methods from the time of Tutankhamen 3500 years ago, but not used by Scottish and Newcastle today we think! It is an extensive page with loads of information for beer enthusiasts.
Rediscovering Ancient Egyptian Beer
Delwen Samuel, from the University of Cambridge has published on ancient Egyptian baking and brewing. Here are a few of his references for you to check out.
(1996)"Investigation of ancient Egyptian baking and brewing methods by correlative microscopy".Science 273:488-490.
(1994)"A new look at bread and beer".Egyptian Archaeology 3:9-12.
(1993)"Ancient Egyptian cereal processing:beyond the artistic record. Cambridge Archaeological Journal 3(2):271-283.

Back to the top
&copy assemblage 1997