FUN AND GAMES
The most three most popular recreational past-times of the British – bingo, cricket and crosswords – come to the fore in our games section.
What would you like to play today?....a crossword, bingo or cricket?

---
The assemblage Archaeological Crossword
written and compiled by Mark Edmonds, Senior Lecturer, Department of Archaeology and Prehistory, University of Sheffield
Slightly cryptic, with a sprinkling of wit and sarcasm, archaeological most of the time – this crossword is definitely worth the effort! Print out this page for the grid and clues. The answers are on another page (link at bottom), but no cheating unless it's really necessary!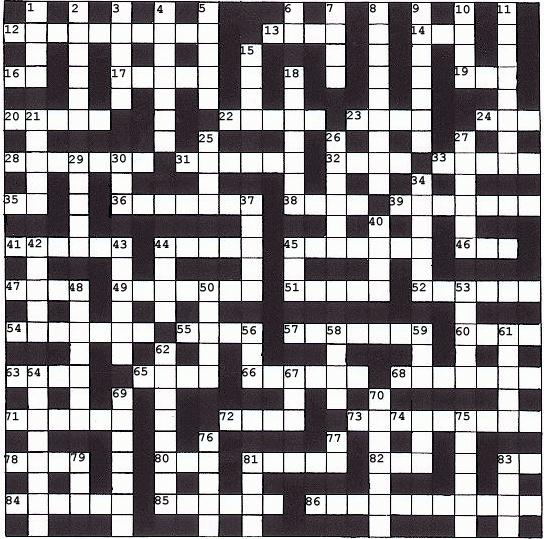 Clues Across
12.		Outdated approach to knowledge building (10)
13.		Island rich in archaeology last seen in dingo zoo (4)
14.		see 52 across & 66 across
16.		Not out (2)
17.		Ma loses her head in the search for difference (5)
19.		Has reworked the fallout from eruptions (3)
20.		On balance, a crucial issue in archaeology (5)
22.		Old boyfriend uses dating technique for tests (5)
23.		Turn the tide when working on a manuscript (4)
24.		Quarry company or graduate journal (1,1,1)
28.		They love this stuff in Tucson (7)
31.		Speaks volumes when knowledgeable (6)
32.		Mimics others in our family tree (4)
33.		see 64 down
35;72A;7D & 77D.Played by Sam, the song could have been written
		for archaeology (2,4,4,2)
36.		In the vanguard of processualism but turns south of
		flab (7)
38.		Wrote 'The history of Bourgeois perception" (5)
39.		see 4 down
41.		Junior heads for the rising sun for classic marxist
		archaeologist (6)
44.		Figure of speech in retro performance (5)
45.		see 76 down
46.		Forever young at Leicester (3)
47.		All that people can be in Althusser's system (4)
49.		Visitor to the Anaktuvuk pass (7)
51. 		Not late! (5)
52; 14A & 66A.	Double act that yell at hands' skin (6,3,6)
54.		Ian saw them in action and the rest was history (7)
55.		Ask him about the law of least effort (4)
57.		see 42 down
60.		The point of orientalism (4)
63.		Ask a dentist to put this in a ditch (4)
65.		Something to do around the hearth according to Lewis (4)
66.		see 52 across
68.		You'll probably get this working in the Fens (1,3,3)
71.		Rips get on an institution studied by Foucault (6)
72.		see 35 across
73.		A concept that the scattered clans aped (9).
78.		A common feeling at the end of an excavation (4)
80.		How many postholes do you need to make a straight line? (3)
81.		He's a little to the right of conservative, or is that just
		contingency? (5)
82.		A children's game or a meeting of minds? (3)
83.		Copper tries hard not to offend (1,1)
84.		Essential for a necktie party! (1, 5)
85.		see 59 down
86.		Knee jerk response or central concern in contemporary
		social theory (11)
Clues Down
1 & 9D. 	His career is in fragments (4,7)
2.		Opposed to routine? Not according to some (6)
3.		Small sod associated with golf clubs (aren't they
		always) (5)
4 & 39A.	Often provides food for thought but it's hardly drab rice
		(7,7)
5.		Barry turns the trams for the last word on Foucault and
		hegemony (5)
6.		Scene of a large scale valley survey in Italy (2)
7. 		see 35 across
8.		Dire hand holds nothing for the contextual archaeologist
		(3, 6)
9.		see 1 down
10.		You should find one on this web site (4)
11.		Used to follow the hunter but now more forward (8)
15.		Scores, we hear, by making the dialectic his object (4)
18.		State beloved by anthropologists that is neither one
		thing or another (7)
21.		Charles gets nothing but paisley patterns from this
		theory (5)
25.		Umberto, we hear, returns (4)
26.		Ever since Gould he's been worried about his fitness (6)
27.		Barbara's makeshift dwelling (6)
29.		Biblical tower (5)
30.		The saviour of spatial analysis or the emporer's new
		clothes? (1,1,1)
34.		Tops of hills much favoured by monarchs (6)
37.		Not very persuasive if you're Jung at heart (5)
40.		Precursor to Tempest had seven phases (4)
42 & 57A	TAG regular from Leiden (5, 7)
43.		Blame a thousand for treatment of the dead (6)
44.		Gnat provides hafting point for many stone tools (4)
48.		Source of raw material from a cartoon daughter (7)
50.		Leaves out moist revolution (5)
53.		Knowledgeable enough to work for MI5 (5)
56.		Adadptively healthy when close to a regression line (3)
58.		Stronghold in quake epicentre (4)
59 & 85A.	U boat captains no strangers to Service (3,6)
61.		A common response to conference papers (5)
62.		One silt log gives an order to settlement and mobility (8)
64 & 33A	A popular opener for conference papers over the past decade
		(2,6,5)
67.		Editor of "politics and history in band societies" (3)
69.		Les and Anna in french historical drama (7)
70.		The context for much debate at conferences (3,4)
74.		Seamus Heaney used his pen to do it (3)
75.		Old stone tool loses the right to stick to something (6)
76 & 45A.	One of our friends in Jesus (5,7)
77.		see 35 across
79.		Commonly presented at many conferences (3)
81.		Hominid rich African valley (4)
83.		Nigel thinks they're smashing (4)
© Mark Edmonds 1997
---
© assemblage 1997