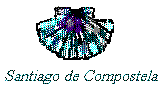 THE POLITICS OF HOME AND HOMELESSNESS
THE PATH TO SANTIAGO DE COMPOSTELA, 1997
by Mel Giles
Many of the most recent publications on social archaeology have focused upon the importance of place in the past, especially the nexus of social life; the home. It is here where social relationships are forged, identities formed, experiences engrained. Most archaeologists, whatever their theoretical orientation, admit that it is a fundamental sphere in which social life is reproduced. It is a social, political, ideological habitus.
As archaeologists committed to the relevance of the past in the present, it is evident that the home is one of the most basic needs of human life, that it is a fundamental human right. Then why is homelessness still an issue in modern society? A report by the National Inquiry into Preventing Youth Homelessness in 1996 estimated that at least 246 000 young people have become homeless in the UK. On average that means for every one of you reading this journal there are at least 70 homeless people in Britain today. What can we do about it?
Christian Turner and Joel Burden, PhD students at the Centre for Medieval Studies, York, have decided to put theory into practice, to raise money for Shelter, the National Campaign for Homeless People. They are bringing the past back to life as they retrace the route taken by Medieval pilgrims from Le Puy in France, across the Pyrenees to Santiago de Compostela, on a sponsored walk of 1550km. It will take eleven weeks of walking, at 25 miles per day, for the pair to reach their destination, navigating their way using the 12th century guidebook of 'Aimery of Picaud'. They intend to arrive on the 25th of July, the feast day of St. James of Santiago.
They are hoping to raise £5000 for Shelter and assemblage would like to endorse their attempt by encouraging you – the archaeologists – to sponsor them from the comfort of your own computer terminal.
As Christian Turner has said, "We are following in the footsteps of the thousands of pilgrims of the Middle Ages. In those days, communities along the pilgrimage route had a responsibility to shelter and provide food for the pilgrims as they passed through. On our own pilgrimage we are raising funds to help Shelter help homeless and badly housed people."
Will you put theory into practice and make a donation? If so, please write (or send a cheque made payable to The Path to Santiago Shelter Appeal) to;
Christian Turner and Joel Burden, Constantine House, 36 St. Mary's, Bootham, YORK Y03 7DD
Telephone: 01904 433948 or 01904 623589 or e-mail cpht100@york.ac.uk
Thank you
For more information on the work that Shelter carry out in the UK, contact them at:
88 Old Street, London EC1V 9HU Tel:0171 505 2000
©Mel Giles 1997
---
© assemblage 1997