The reports are archived by the ADS.
Type and search a contractor and click 'Go' to view all available reports from that contractor or browse list of contractors here.
<! --- >
Results for AOC Archaeology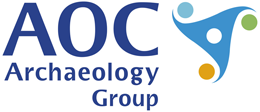 "AOC Archaeology Group responds to clients' needs across the British Isles as one of Britain's leading archaeological and heritage management service providers with offices in Edinburgh, Glasgow, Leeds, London, Southampton and Dublin.
AOC Archaeology Group provides archaeological planning advice to a wide range of clients including property developers and their agents. Their role is to assist the developer in dealing with any on-site archaeology in an ethical but cost-effective manner through the careful integration of any archaeological works within the development strategy.
AOC Archaeology fieldwork teams are composed of highly experienced and skilled field archaeologists who can competently handle a wide range of different types of sites and projects. AOC Archaeology also undertakes specialist field and post-excavation services including underwater archaeology, forensic archaeology, dendrochronology, osteoarchaeology and the study of pottery, building material, lithics and metalwork. AOC Archaeology Group also specialises in the measured survey and analysis of historic buildings and their settings."
Click on the title of the document to see more details and use the file type link to go straight to the report. Where multiple files exist for a report, you will need to go to the full details page in order to access the files.
Cite this report listing using this URL: http://archaeologydataservice.ac.uk/archives/view/greylit/browse.cfm?unit=AOC Archaeology