The reports are archived by the ADS.
Type and search a contractor and click 'Go' to view all available reports from that contractor or browse list of contractors here.
<! --- >
Results for Derek Hall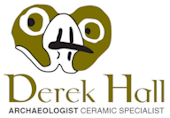 Archaeologist and Ceramic Specialist

Derek studied at the Dorset Institute of Higher Education, Weymouth where he gained a Certificate in Practical Archaeology (graduating in 1978). From 1976 to 1980 he worked on archaeological sites throughout Scotland and England, including one of the first urban rescue excavations in Scotland in advance of the Elgin Relief road (he grew up in Elgin).

In 1980 he joined the Urban Archaeology Unit, the predecessor of SUAT Ltd. From 1982-1985 he was a Senior Supervisor for SUAT on several major excavations before being appointed Field Officer. In 1996 he was seconded to Historic Scotland as an Inspector of Ancient Monuments, before returning to SUAT as Deputy Director until its demise in 2009. Derek now operates as a sole trader. He has extensive research interests in Scottish Medieval Pottery and medieval hospitals, monastic granges, industries and landscapes. He is currently assistant editor of the TAFAC journal and co-editor of Medieval Ceramics (annual journal of the Medieval Pottery Research Group).
Click on the title of the document to see more details and use the file type link to go straight to the report. Where multiple files exist for a report, you will need to go to the full details page in order to access the files.
Cite this report listing using this URL: http://archaeologydataservice.ac.uk/archives/view/greylit/browse.cfm?unit=Derek Hall