The reports are archived by the ADS.
Type and search a contractor and click 'Go' to view all available reports from that contractor or browse list of contractors here.
<! --- >
Results for Swaledale and Arkengarthdale Archaeology Group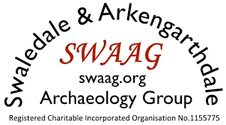 "SWAAG is a group of enthusiasts in the northernmost Yorkshire Dales who contribute to the knowledge base of the history our dales through archaeological and related activity.
Our work ranges from archaeology, landscape and geophysical surveying, geology and local botany or just walking the beautiful countryside year-round.
We will over time study a wide range of sites from prehistoric through Romano-British to medieval and lead mining. We welcome all who want to participate or learn new skills.
SWAAG is a registered charity, number 1155775"
Click on the title of the document to see more details and use the file type link to go straight to the report. Where multiple files exist for a report, you will need to go to the full details page in order to access the files.
Cite this report listing using this URL: http://archaeologydataservice.ac.uk/archives/view/greylit/browse.cfm?unit=Swaledale and Arkengarthdale Archaeology Group