The reports are archived by the ADS.
Type and search a contractor and click 'Go' to view all available reports from that contractor or browse list of contractors here.
<! --- >
Results for Vindomora Solutions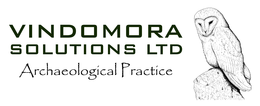 "Vindomora Solutions is the trading name for sole-trader Tony Liddell. Tony has worked professionally in the heritage sector since 1994, working throughout the North East of England in both field archaeology and more specifically in survey, evaluation, traditional archaeological illustration and CAD work. As well as the heritage sector, Tony has also worked as a Technical Author for a leading North East electronics firm, and as a digital archivist for Newcastle City Libraries.

Vindomora Solutions offer desk-based assessment, historic building and landscape survey, field evaluation and monitoring, monograph publication, website design, marketing material design, graphic design and CAD within a system of combined or standalone solutions."
Click on the title of the document to see more details and use the file type link to go straight to the report. Where multiple files exist for a report, you will need to go to the full details page in order to access the files.
Cite this report listing using this URL: http://archaeologydataservice.ac.uk/archives/view/greylit/browse.cfm?unit=Vindomora Solutions