Introduction to the Programme
Aim: to enhance our understanding about past human settlement, by providing primary information and syntheses for all archaeological sites and landscapes (visible on aerial photographs) from the Neolithic period to the twentieth century.
The National Mapping Programme (NMP) will achieve this by identifying and recording all archaeological sites and landscapes visible on aerial photographs. Basic level interpretation, mapping and analysis is undertaken for remains of all periods from the Neolithic to the twentieth century. Priority is given to those areas that are under the greatest threat or are poorly understood. A major contribution of NMP has been to double the number of known archaeological sites, and thus transform our understanding of past human settlement and land use.
Projects undertaken by the Royal Commission on the Historical Monuments of England in the 1980s in the Yorkshire Wolds (cropmarks) and on Dartmoor (earthworks) showed the great potential of archaeological survey from aerial photography. NMP Pilot projects in Kent, Hertfordshire, Thames Valley and Yorkshire Dales followed, and by December 2001 some 28% of the country had been covered.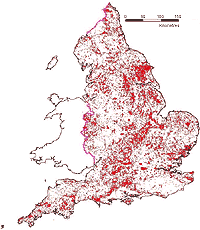 Millions of aerial photographs of England, mainly taken since 1945, are available for study. The map (right) shows the distribution of aerial photographs taken specifically for archaeological purposes and held in the National Monuments Record.
Most of the information contained in these photographs is not represented in local or national records; experienced archaeological air-photo interpreters working on the National Mapping Programme, produce a synthesis to make the archaeological data accessible to a wider audience.
Aerial photography is the single most important tool for the discovery of archaeological sites. Where remains are visible solely as cropmarks or soilmarks, often only a small window is seen, and it takes many years of reconnaissance to build up a picture of the whole landscape. The results of NMP are used for increasing the level of protection and management of sites and landscapes. This is either through scheduling (legal protection) or by local authority consultation (on a daily basis) of the NMP information to prevent unnecessary damage or destruction of archaeological sites, as part of their development control work. Erosion of sites, either through natural agencies (e.g. the sea and rising sea levels) or modern agricultural methods, especially ploughing and drainage, is a major reason for accelerating this programme of research and analysis. With this information a greater understanding of the past human settlement and land use can be obtained so that its protection, conservation and management is better informed.
Completed Projects
The pre-NMP projects were:
Yorkshire Wolds - February 1981 - December 1991
Dartmoor - December 1984 - April 1986
Pilot projects were:
Kent - October 1986 - October 1987
Thames Valley - June 1988 - November 1994
Hertfordshire - June 1989 - November 1992
Yorkshire Dales - February 1989 - July 1992
Followed by:
Howgill Fells - June 1992 - January 1994
Lincolnshire - July 1992 - March 1997
National Forest - August 1992 - March 1995
Howardian Hills - April 1993 - January 1994
Marches Uplands - June 1993 - October 1994
Salisbury Plain Training Area - December 1994 - August 1995
Berkshire - November 1995 - January 1999
Avebury World Heritage Site - October 1997 - December 1998
Brendon Hills - January 1998 - October 1998
Vale of York - January 1998 - December 2000
Lambourn Downs - January 1999 - April 2000
Malvern Hills AONB - July 2000 - January 2001
Stonehenge World Heritage Site - February 2001 - July 2001
Projects carried out externally:
Nottinghamshire - July 1993 - January 1997
Visit English Heritage's web page on the National Mapping Programme for up-to-date information on NMP work