Details

- textual descriptions regarding distinctive features, date range, origins, distributions, contents and alternative classifications:

Distinctive features:

A brief description of the complete amphora type, emphasizing the distinguishing characteristics of its rim, handles, and spike. This is accompanied by a line-drawing(s) of a complete example, or a fragment where this is known: all the drawings on the website are drawn to a common scale of 1 to 10, and details at 1 to 5. Colour photographs are also provided. More detailed analysis of the shape, sub-types and general variations in shape can be found in the publications cited for the type. In those cases where an amphora was stamped, there is a link to the stamps hosted by the CEIPAC (Centro para el Estudio de la Interdependencia Provincial en la Antiguedad Clásica) website, hosted by the Universitat de Barcelona.

Date range:

The approximate dates (earliest and latest) for production of the amphorae. These mostly, but not always, tend to derive from the sites on land to which the amphorae had been imported and used, rather than from the sites at which they were produced since well-dated kiln sites are still comparatively rare. In some cases wrecks provide important sealed assemblages of amphorae dated to the time that the ships foundered.

Origin:

A brief statement as to main known areas of production. Preference is given in this website to origins known directly from the discovery of specific forms at an identified kiln site, the identification of mineral inclusions distinctive to a particular part of the Roman empire (see fabric below), or information recorded in tituli picti and stamps. Vagueries of discovery make distribution maps a potentially erroneous way of assigning origins to amphorae. Similarities in shape are subjective and can be misleading.

Origin List:

Search criteria for a list of countries or areas where the type is known or thought to have been manufactured.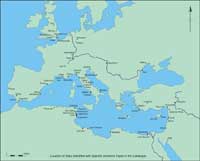 Important sites
Distribution:
This statement attempts to summarize what is known about the broad areas of the type distribution. It is not intended to read as a list of all known find-spots, which would be well beyond the scope of this resource. The regions and places cited for each type give an approximate idea as to the extent to which the type was traded: some of the more important sites can be located on maps of the Roman empire. Detailed distribution maps have not been provided since, without a list of all known published and unpublished examples of each type, this could be potentially misleading.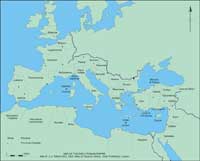 Provinces of the early Empire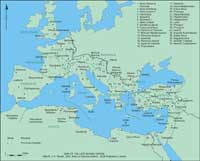 Provinces of the late Empire
Distribution List:
Search criteria for a list of countries or areas where the type has been found.
Contents statement:
A statement as to the known or hypothesized content. Occasionally this is known from food residues (mainly wine, fish sauce, olive oil) found in the amphorae themselves. In other cases, it is suggested on the basis of the content of tituli picti. For many, however, it is little more than an educated guess based upon the crops known to have been produced in the suggested production area, or the similarity of the form to others whose content is better known. It should also be borne in mind that some amphorae were re-used, holding different contents at different time, while others may have been designed as non-commodity specific.
Contents List:
Search criteria for a list of the specific products transported or thought to be transported by the amphorae.
Comments:
Names of the individuals responsible for compiling the description of the amphorae (see Scientific Collaboration Below). Unless otherwise stated, all fabric and petrological descriptions were undertaken by David Williams.
Classification:
Alternative names that have been assigned to that amphora type.
Characteristics

- Search criteria for categorical descriptions of distinctive attributes such as rim type, base type etc. A comparison page is provided where each characteristic is illustrated with a small image showing a generalised version of that attribute. These images do not represent the actual amphora type in question but are to help with visualising the form.

This page also includes:

Capacity:

Search criteria for capacity. This statement attempts to provide an idea of the capacity of the amphora type. Since there is often variation in the size of amphorae within a type, this should be regarded as approximate and the upper limit of size. The capacity of types known only as fragments is impossible to calculate.

Min Height, Max Height, Min Rim Diameter, Maximum Rim Diameter:

These are the approximate measurements of complete examples, or fragments if these survive. These are often an important criterion in assigning fragments to one form or another. Further measurements of rim, base or handle fragments can be found in the more detailed studies and site reports cited under references.

Fabric:

Search criteria for the type of fabric in which the amphora is made.