Introduction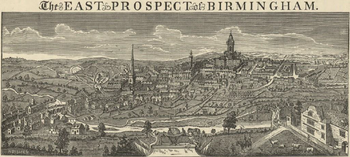 The overall aim of this project has been to provide a holistic overview of the archaeological remains recorded in Birmingham City Centre within a defined study area. The original project was initiated by Birmingham City Council and English Heritage in 2006 (project 1611). A second project aiming to update the results was initiated in 2015 (project 3851).
Despite the large amount of archaeological work undertaken within the study area, it was felt that the lack of published work and dissemination had led to fragmentation of the results of investigations and, subsequently, of the understanding of Birmingham's historic development. Moreover, individual investigations undertaken were often seen on a site-by-site basis and not brought together within a regional or national context. The aim of the project, therefore, was to synthesise this information, to provide a holistic overview of Birmingham's development and archaeological heritage.
Certain boundaries were put in place early in the project development. Perhaps most pertinently, the project did not intend to produce a definitive account of Birmingham's development and heritage. Moreover, an emphasis on the results of developer-funded investigations aimed to highlight the huge contribution made by the work undertaken within the planning framework and to give account of that work. Original research was not the aim of the project; the point of the exercise was to collate, synthesise and disseminate in order to highlight gaps in current knowledge and to highlight potential.
The materials in this project are derived from work originally undertaken by Birmingham Archaeology 2006 - 2008 and funded by English Heritage (project 1611: Life, Work and Death in Birmingham, AD 1100-1900). The body of work produced by Birmingham Archaeology and the wider project team is available via ADS.
This project comprises a shorter report and gazetteer, commissioned by English Heritage in 2015 (project 3581) from Wardell Armstrong to include additional sites and provide an updated, edited version of the earlier reporting. This project consists of an unpublished draft report completed in 2016 by Wardell Armstrong, with some basic editing carried out by Historic England in 2020.
The reader is advised that the fuller specialist contributions from which this short, edited report is in part derived can be found in the 1611 project archive on ADS:
Birmingham Archaeology (2017) Life, Work and Death in Birmingham, AD 1100-1900 [data-set]. York: Archaeology Data Service [distributor] https://doi.org/10.5284/1046277
Forster, A and Rátkai, S (eds) 2008 Archaeology and Development in Birmingham City Centre AD 1100 - 1900. Unpublished report https://doi.org/10.5284/1046277
David Hodgkinson is acknowledged as the author of this report. The project team brought together as part of the Birmingham Archaeology project 1611 are acknowledged as joint authors of the original work, and also as contributors to the present report. Project 1611 was managed by Stephanie Rátkai and Amanda K Forster, who also compiled and edited the 2008 report. Project contributors included: Josephine Adams (documentary research), Nigel Baker (town plan analysis), Stephanie Rátkai (pottery), Ian Baxter (review of faunal evidence), Megan Brickley (review of osteoarchaeological evidence), Ben Gearey (paleoenvironmental review), Andrew Howard (paleoenvironmental review), David Higgins (Birmingham pipemakers research), Tom Hill (paleoenvironmental review), Mike Hodder (Gazetteer of sites), Shane Kelleher (review of historic buildings), Quita Mould (review of artefacts), Eleanor Ramsey (desk based research, site gazetteer and GIS), and Martin Smith (review of osteoarchaeological evidence).