Introduction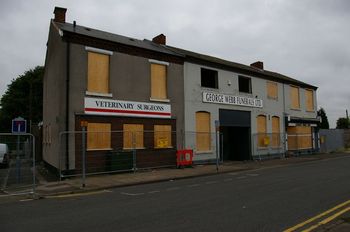 Birmingham Archaeology was commissioned by Tesco Stores to undertake historic building recording in respect of Nos 46-56 and 80 New Street, West Bromwich, West Midlands (NGR: SP 5212 7950), in advance of demolition and redevelopment of the site as a retail store.
A property had been built in the position of Nos 46-50 by 1837, but the site was redeveloped, probably in the late 1870s, as a terrace of three properties, the middle one (No. 48) comprising a public house, latterly the Nelson Inn, with a large rear yard and ancillary buildings. In 1881 one William Arnold, publican, was resident at No. 46; from 1891 George Arnold and Co., beer seller was listed here, and Nos 46-48 are probably to be identified with the headquarters of George Arnold, brewers. While Nos 46-48 were probably in the same occupancy, No. 50 was quite separate, and from 1891 was the premises of Thomas Hickling, painter, and later plumber. A plumbing business was carried on from here until the late 1920s, after which the property became a sub-post office. Architecturally, the principal interest of the range was the interior of the Nelson Inn, which retained a number of its late 19th-century fixtures and fittings including a panelled bar counter, fitted tiled and mirrored bar back with six tiers of shelving, public bar door with engraved glass panel, skirting boards, moulded doorway architraves, wall cornices, and stairwell balustrade.
Nos 52-56 were built between 1886 and 1889, and housed a number of small businesses including a lock manufacturer, general dealer, milk seller, watchmaker and cycle agent. They each consisted of a shop at the front and domestic accommodation to the rear and upstairs.
No. 80 was probably purpose built for George Webb, undertaker, whose business was established in New Street between 1872 and 1876. The premises were extended to the rear between 1886 and 1904, and evidence of refurbishment in the early 20th century is evident in some of the details in the main block, in particular the ceramic tiled floor, balustraded staircase, swagged anaglypta frieze and leaded windows. Further refurbishment appears to have taken place around the 1930s with the replacement of several fireplaces, and the creation of a conservatory. The firm of George Webb and Son, undertakers, continued to occupy the premises until comparatively recently.