Introduction | Seascapes Character Types
Maritime Safety
Introduction: defining/distinguishing attributes and principal locations
The Type Maritime Safety includes the following sub-types:
Navigation Aids (Sea) (including buoys, beacons and lights);
Navigation Aids (Land) (including lighthouses, fog stations, landmarks (e.g. churches, beacons, chimneys, hills), daymarks, topmarks, distance Marks and lights);
Safety Services (including coastguard stations, lifeboat stations etc).
Quarantine areas
For obvious reasons and as with Navigation Hazards the majority of the features associated with this Type are typically found on or immediately adjacent to the coast. Historically the rocky North Yorkshire coast and the Tees Estuary have been notoriously dangerous areas to navigate. The submerged scars and awash rocks that are strewn along the foreshore and inter-tidal areas, and the shoals, sandbanks and drying areas associated with the estuary all exacerbated by the tempestuous nature of the North Sea itself.
This Type has close associations with Types Navigation Channel and Navigation Area/Route. The entrance to estuaries and rivers, submerged hazards and foul areas are demarcated by tracks of posts, buoys, lights, beacons, bells and topmarks. The sites of some navigation aids have a long history being continually represented on Admiralty charts and maps including the Fairway Buoy in Tees Bay, the 5th and 9th Buoys in the Tees entrance, the buoys marking the Long-Scar between the estuary and Hartlepool and the Salt Scar at Redcar, and those at the entrances to Staithes, Whitby (marking the hazardous Whitby rocks) and Scarborough.
Landward, numerous landmarks were used to sight and survey and navigate from, often providing the basis for maritime charts, triangulation and folios (hand drawn profiles of the coast with prominent features annotated). Lighthouses can be found on the Heugh, Hartlepool and in the entrance to the harbour itself, at South Gare, Whitby and Scarborough.
A further aspect of maritime safety are the coastguard and lifeboat stations and lookouts dotted strategically along the coast. Coastguard stations can be found at Scarborough, Robin Hood's Bay, Saltburn, Staithes, and Redcar. Lifeboat stations can be found at Scarborough, Runswick Bay, Whitby, Redcar, River Tees, Seaton Carew and Hartlepool.
Some areas of the sea itself are restricted 'navigation areas' (see Type Navigation Area/Route) and are in place to facilitate navigation in and out of areas (eg Tees Bay) whilst others are exclusion zones for safety reasons, for example around offshore oil or gas installations.
Historical processes; components, features and variability
The sea has always presented mariners with danger, not only the inherent ones, storm conditions, obstacles and hazards but also those posed by invaders. Conversely it has also brought opportunities, to farm, trade, export and import, emigrate or immigrate. Roman signal stations along the south and east coasts were built to warn against attacks. A line of five was built along the Yorkshire coast at Saltburn, Goldsborough, Ravenscar, Scarborough (Figure 9.43) and Filey (Tees Archaeology, 2004).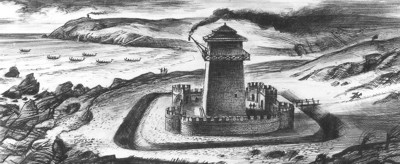 Figure 9.43. Reconstruction drawing by Alan Sorrell of the Roman signal station at Scarborough Castle (© English Heritage)
In antiquity celestial navigation was most often used when out of sight of land using the sun, moon, stars and planets as reference points (Polaris was used in the northern hemisphere). Dead reckoning will also have been used - estimating current position based upon a previously determined position, or fix, and advancing that position based upon measured speed, time, heading, as well as the effect of currents or wind. The magnetic compass was known from the 12th century, if not earlier. An equally, if not more important device was the sounding lead, a solid lump of lead attached to a marked line that made it possible to measure the depth of the water under a ship - the sounding. The other common medieval instrument was the sandglass, first developed in the Mediterranean in the 13th century and used to time a ship's run on a certain point of sailing or to time watches. All of these instruments were in use by the 14th century. Navigational instruments improved in the 15th century with the development in southern Europe of astrolabes, quadrants and cross-staffs, which were all devices used to measure the altitude (angle in the sky) of heavenly bodies, such as the sun, above the horizon. This made it possible to calculate latitude, a crucial step for transoceanic navigation. Despite many attempts however, the determination of longitude had to wait until the development of Yorkshireman John Harrison's chronometer in the late 18th century. Sea-charts were first developed in 13th century Italy, but were probably not used in northern Europe until the 16th century. The earliest known English sea-chart dates from the 1530s.
Prior to 1600 it is likely that navigation lore was learnt by heart and by experience, and was seldom put into writing because few medieval mariners could read. Sailing directions, which told the mariner what tides would run at such and such a point or which headland followed which, probably first developed as oral mnemonics which the sailor committed to memory. The earliest written sailing directions in English date from the 15th century. Called a 'rutter', such documents appeared in print form in the 16th century (in England in 1528), often with small maps or pictures of stretches of coastline.
Sailing directions relied in part on the recognition of coastal features, such as headland shapes, church spires, and other landmarks. At night, of course, such features disappeared, so in some places rudimentary lighthouses were erected, usually maintained by religious houses eg Whitby Abbey's Rose Window. Some lights were funded by local shipping tolls and at least thirteen lighthouses are thought to have existed in medieval England (Friel 2003, 85-6).
To sail into Hartlepool:

There is a Beacon stands upon a Ledge of Rocks, which you must leave on your starboard Side, and so sail right in with the Pier-head; there is a Sand called the Ganble, which you must be careful to avoid, by keeping as near the Pier as you can. There is good anchoring in the Road to the Southward of the Town, in four, five or six Fathom Water.'

The English Pilot of Northern Navigation, 1752 (sailing directions) (Whitby Museum)
The marking of sea channels with buoys and poles, so that mariners could avoid shallow water, was also practiced in medieval England, but very little is known about it. The evidence for seamarks becomes much clearer in the 16th century, with the appearance of buoyed channels laid and maintained by organizations such as the Trinity House of Deptford. Founded in 1514, Trinity House survives today as the body responsible for lighthouses and other navigation features in England and Wales (Friel 2003, 87).
Trinity House had marked the approaches of the Tees with wooden buoys in the early 16th century but it was not until 1839 that lights were placed in the river for the first time. There were two towers erected north of Seaton and two on Seal Bran Sands, one floating light at the entrance to the river, 11 fixed and one large light in the channel itself (Le Guillou 1975, 19).
Directions to sail into the Tees:

There are two Gully-heads that stand upon Barnaby Moor, keep them a Sail's Breadth open, which will bring you to the fifth Buoy; but now there are better Marks, for whether you come from the Northward or Southward, take Care to keep off so far as to keep clear of the Salt-scars [Redcar] on the South, or the Long-scars [Hartlepool] on the North of the Tees, till you come before the River, and then stand in, till you bring the two Capes or Beacons which stand on the Sand on the Yorkshire Side, both in one, and run in with them so, it will bring you to the first Buoy called the Outer Buoy, and from thence about WSW from you, you may see the second Buoy, and from the Second Buoy you may see the third; leave all the first three Buoys on the starboard Side going in, and from the third you may see a fourth Buoy, which you must leave on the starboard Side going in, and when you come up as high as the Beacons on the N. Side which stands a little more than half a Cable's Length to the Northward of the Channel, you may come to an Anchor, and if you go to Portrick or Stockton, you must take a Pilot. You may come in at half Flood, if your Ship draw not above 12 feet, and for greater Draught more Tide proportionable.'

The English Pilot of Northern Navigation, 1752 (sailing directions) (Whitby Museum)
The use of landmarks to guide ships safely along the coast and into ports and harbours is another common aspect of maritime safety and probably the oldest method of navigation. These can be either natural (such as hills or prominent landscape features e.g. Roseberry Topping (it was once used by sailors out at sea as an indicator of changing weather)), or man-made features (such as church spires and chapels (even the windows such as the Rose Window at Whitby Abbey), windmills, beacons, chimneys, cooling towers, lighthouses (Figure 9.44), masts, trig stations and towers). Prehistoric monuments may also have served this purpose as the great barrow at Snape, Suffolk indicates (Friel 2003, 13).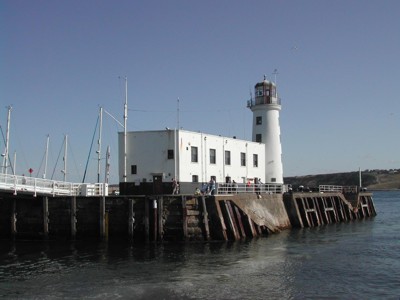 Figure 9.44. Lighthouse at Vincent's Pier, Scarborough
This coast also saw some of the earliest developments in the institutional provision of life-saving facilities. Early coastguard stations, rocket posts and lifeboat stations are shown on all editions of the OS maps.
Many of the lifeboats along this coast were manned by local fishermen, principally because they knew the local water better than others but also because it was often their kindred or members of their community that were in danger. Whitby's first lifeboat was acquired in 1802. In 1822 this boat was replaced by two new ones. These early lifeboats carried out many rescues over the years; they were all of the pulling variety, relying on oars (Figure 9.45). In the wild conditions that tended to prevail on this coast when their services were called on, it required very powerful oarsmen to thrust though the mountainous seas.
Of all the instances dealt with by Whitby lifeboats none is better known than the tragedy that struck on 9th February 1861. In the words of the Rev. William Keane, writing to The Times newspaper that day:

'We have had a fearful storm today. Half a mile of our strand is already strewn with several wrecks; a new lifeboat launched a few months ago was manned by the finest picked seamen of Whitby. Five times during the day they have braved the furious sea and five times returned from vessels in distress. A sixth ship was driven behind the pier. The men, exhausted though they were, again pulled out, but, before they had gone fifty yards, a wave capsized the boat. Then was beheld by several thousand persons, within almost a stones throw but unable to assist, the fearful agonies of those powerful men, buffeting with fury of the breakers till, one by one, twelve of thirteen sank, and only one was saved. There were ten widows, forty-four fatherless children and two dependants left' (White, 2004, 110).
Eventually motor lifeboats were introduced and, in recent years, the inshore lifeboat, an inflatable boat which can travel fast in shallow water to rescue people trapped by tide or victims of pleasure boat accidents, has become increasingly important (White 2004, 110-12).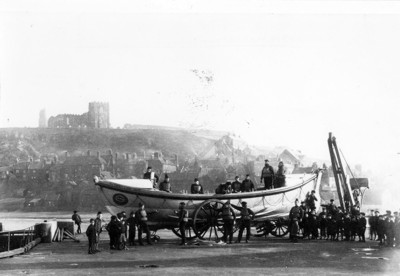 Figure 9.45. Whitby Life Boat Robert & Mary Ellis (1881-1909) (© Whitby Museum)
Pilotage, the guiding of ships into harbour by a local experienced sailor, has been a feature of maritime safety from at least the medieval period and remains a vital function today. Pilots are recorded for the Tees in 1752 (Friel 2003, 87).
Values and Perceptions
Maritime safety features are an obvious and easily recognised part of any coastline or shoreline. Lighthouses, beacons, and daymarks are iconic monuments bridging the boundary between land and sea. However some sites are less obvious, church spires and towers, buildings and other monuments that were not designed with maritime safety in mind but were appropriated nevertheless. These monuments can be seen in a new light once viewed from a maritime perspective.
Navigation aids out at sea, such as buoys, lights, and beacons, are perhaps less obvious to anyone who does not sail although in the darkness they obviously have more visual impact. However those that employ sound, fog horns and bells have an immediate, if not somewhat ominous pitch immediately alerting the unwary to dangers ahead.
Coastguard and lifeboat stations are an integral part of any coastal community often being manned by members of that community.
Research, amenity and education
There is considerable documentary evidence and research for this Type which would lend itself to archaeological fieldwork, not only in landscape terms and perceptions but also in terms of the history and chronology of monuments, features that no longer exist.
The use of landmarks and navigation aids greatly facilitated the development of surveying techniques and the drafting of maritime charts and coast profiles (folios) (Figure 9.46). Many of the early charts identify features that no longer exist (windmills in the study area for example) and they may be the only mapped record available constituting an important resource for landscape as well as seascape studies.

Figure 9.46. Coast profile (folio) for guiding sailors safely into Hartlepool (© UKHO)
Condition & forces for change
Navigation aids, particularly those at sea, are often replaced and renewed. Nevertheless, their mooring sites may still hold evidence of successive use, for example fixings, piles and other materials used to anchor these features to the seabed.
Terrestrial markers are increasingly becoming obsolete as radio, satellite navigation, digital marine charts and seismic technologies replace traditional methods of navigation. Similarly the automation of lighthouses has seen the people who operated and lived in these features replaced. Question marks have been raised about the relevance of lighthouses at all in an era of GPS (global positioning system) position-finding.
Rarity and vulnerability
Navigational aids are vulnerable firstly to the elements themselves, due very often to their necessary location but also to neglect. As technology surpasses traditional methods so the monuments and features associated with these methods also become obsolete. Many features have already disappeared and may be discernible through the archaeological record only.
Recommendations
Navigation aids bridge the gap between land and sea and as such are fundamental to understanding the human-use of the sea. Given their under-representation it would be beneficial to research, document and map these features whether topographical, man-made or accidental. The latter in particular offer a new perspective to our understanding. Plotting the location and development of coastguard stations along the coast would also give valuable information about the development of hazards and preventative methods for coastal trades of all types (Mark Newman Pers Com).
Sources
Publications:
Friel, I. 2003. Maritime History of Britain and Ireland, c400-2001. The British Museum Press.
Le Guillou, 1975. The History of the River Tees, 1000-1975.
White, A., 2004. A History of Whitby. Phillimore, Bodmin
Tees Archaeology, 2004. Roman Teesside: Archaeology Booklet No.3.
The English Pilot of Northern Navigation, 1752 (sailing directions) (Whitby Museum)