Introduction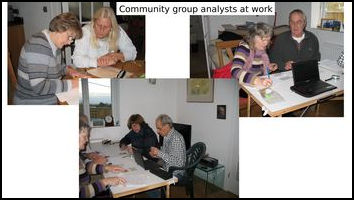 The examined assemblage consisted of a series of collections lodged at the Royal Albert Memorial Museum, Exeter (RAMM), donated by the Tiverton Archaeology Group (TAG).
Methodology of collection
TAG was set up in the early 1980's, to fieldwalk along the proposed course of the North Devon link road (NDLR), and surrounding fields, divided into:
an area walked along the line of phase 1 of the NDLR east of Tiverton, from Sampford Peverell to the grid Easting 116500;
a rectangular area, north of, south of, and along the course of the NDLR, from Easting 295000 to 300000, and Northing 111000 to 116500, considered to be the core area, with a huge majority of the finds; and
an area west of Tiverton, along the line of phase 2 of the NDLR from Easting 277000 to 293000.
Structured walks were planned for individual fields, occasionally two adjoining fields, and were documented with detailed fieldwalk notes by Barbara Keene, showing: date(s); area covered; walk tactics; people involved; and frequently plans of where pieces were found; these fieldwalks were mostly in the core area, and covered the largest surface area.
Some other fields, usually along the final course of the road, were walked randomly, and findspots were recorded by grid reference.
Two additional small lithic sets were examined, and are included in the overall analysis:
finds collected from Rowridge farm by the farmer from unidentified fields;
finds presented to Tiverton Museum by the TAG from similar local fields.
Methodology of lithic analysis
The assemblage was analysed by a community group of members of the Devon Archaeological Society, trained and led by Henrietta Quinnell, who examined all the pieces The assemblage was received from RAMM in cardboard boxes containing finds from one or more fields, in a number of bags. Where the number of found pieces required it, the bags contained finds either from one or more sub-areas: strips or squares; or by material type: flint or chert.
Initial Assessment
The purpose of the initial assessment was to:
summarise the contents of each bag; and
identify pieces of interest, for more detailed study.
Each bag's contents were categorised on paper Initial Assessment sheets, but for manageability, bags containing a large number of finds were split into groups, each with its own sheet. The data from these sheets were then transferred to individual Excel tables.
For each sheet, the finds were initially divided into: material type – flint, greensand chert, Portland chert or Other identified by material; and cortex type – nodular, pebble or non-cortical. Each grouping was counted and recorded in the Cortex Assessment section of the sheet. The finds were then divided into 32 categories, again by material type.
The data from the Initial Assessment sheets was consolidated into three Excel tables, containing all records of their type for further assessment and analysis:
a list of 'significant pieces': cores; standard tool types; and all Portland chert pieces; individually identified, for more detailed assessment;
a cortex analysis table for all pieces, by material and field; and
a summary of the piece descriptions, by material and field.
Detailed Analysis
The purpose of the detailed analysis was to:
examine and describe all identified tools in more detail; and
examine closely pieces with particular significance, viz. arrowheads, microburins, microliths, and all Portland chert pieces, to draw more detailed conclusions.
The detailed tools analysis:
re-examined the cortex type, adding waterworn as an extra category and estimated the remaining dorsal cortex, in quartiles;
measured all the tools in three dimensions, with an indicator, if broken in length or width;
identified whether the tool was made on a core, flake or blade;
made a more detailed description of the tool, by type and laterality, e.g. scraper, side, left edge; and
described the amount and type of retouch; and
identified apparently multi-purpose tools.
A full paper is available: br> Quinnell, H., Dymond, T., Keene, B., Newberry, J. 2015: 'Lithic Scatters, Archaeology and Road Construction in the Tiverton Area', Proc. Devon Archaeol. Soc. 73, 1–66.