Introduction
The Medieval Pottery Research Group was founded in 1975 to bring together people with an interest in pottery vessels that were made, traded and used in Europe between the end of the Roman period and the sixteenth century. Its remit has subsequently expanded to include the pottery of the seventeenth, eighteenth and nineteenth centuries from both sides of the Atlantic and beyond, as well as post-Roman ceramic building materials.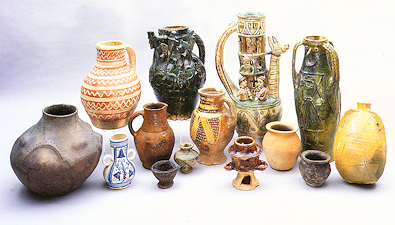 The MPRG Bibliography is an on-line national bibliography of published reports, books and articles on post-Roman ceramics which has been gathered together by volunteer compilers from across Britain. The Bibliography was launched in 1980 as part of a three-phased project to provide national standards for the excavation, study and publication of medieval and post-medieval ceramics, which followed the formation of the Medieval Pottery Research Group in 1975. At that time there was no common methodology between researchers, much of the existing information was obscurely published and excavated assemblages could not adequately be compared between sites. The Group resolved to create agreed guidelines, to compile a common and comprehensive glossary and to provide a critical bibliography. The following publications were the result of that resolution:
Davey P.J., 1980 Towards a national bibliography for medieval and post-medieval ceramics Medieval Pottery Research Group. Liverpool.
Blake H., and Davey P.J. 1983 Guidelines for the processing and publication of medieval pottery from excavations Directorate of Ancient Monuments and Historic Buildings, Occasional Paper 5 . London.
MPRG 2000 'A Guide to the Classification of Medieval Ceramics' Medieval Pottery Research Group Occasional Paper 1.
MPRG 2001 Minimum Standards for the Processing, Recording, Analysis and Publication of Post-Roman Ceramics, Medieval Pottery Research Group Occasional Paper 2.
Bibliographic information was collected annually from 1980 and from 1984 - 2001 published as the Annual Bibliography in the MPRG's journal Medieval Ceramics. A principal recommendation of a major review of medieval ceramic studies published in 1994 (Mellor M 1994 Medieval Ceramic Studies in England. A review for English heritage on behalf of the Medieval Pottery Research Group) was that the Bibliography should be made available in digital form. In 2001 as a result of a project funded by English Heritage and carried out on behalf of the MPRG at Liverpool University the Bibliography was launched as an on-line searchable database. It contained over 12,400 entries collected by 86 compilers from a variety of publications including 222 journals, covering the whole of the British Isles, including the Republic of Ireland, the Isle of Man and the Channel Islands.
Content
The essential purpose of the Bibliography is to provide access to the sum of existing knowledge on post-Roman ceramics. The information included in the Bibliography is the same as appears in a conventional reference with the addition of details such as county, town or parish and common names (e.g. name of site), with the National Grid Reference, where available and a series of indexing codes for type of report, ceramic categories present, dating and type of site.
The counties follow the boundaries of the 1972 local government re-organisation, this means that some sites will not be listed in their current administrative county, this is to avoid altering the database with each new administrative boundary change. Parish or township names are provided where possible but in some instances there may be no entry. The common name consists of the name of the site or in towns the property number and street name. National Grid References have been entered exactly as quoted in the published report, in order to facilitate searching by grid square a large number of grid references has been added, accuracy has been maintained as far as possible but minor errors may be present.
The bibliographic references are categorised by the following periods:
| | |
| --- | --- |
| Early Saxon | 400-650 |
| Middle Saxon | 650-850 |
| Saxo-Norman | 850-1150 |
| Early Medieval | 1150-1250 |
| Highly Decorated | 1250-1400 |
| Late Medieval | 1400-1500 |
| Post-Medieval | 1500-1750 |
| Modern period | 1750+ |
Although the aim of the Bibliography is to cover all geographical areas of the British Isles and all published references, coverage across the country has varied and there are some geographical gaps. Since 2001 regular annual updates have faltered, although a request for information was sent out in 2004 and this material is currently being collated. It is the aim of MPRG to resume annual searches and updates to the database but more compilers are required as the literature searches are carried out on a voluntary basis. If you are able to regularly search a journal in your area or would be able to supply bibliographic references to complete gaps in the Bibliography please contact MPRG: vicepres@medievalpottery.org.uk. The MPRG Bibliography Recording Form, which should be posted to the address, above can be downloaded here.
The aim of providing access to the sum of existing knowledge on post-Roman ceramics has become difficult to achieve with the increasing number of ceramic reports that only exist within 'grey literature' and/or in digital format. MPRG needs to address whether these reports can be incorporated into the Bibliography or whether their presence can be made accessible through other means.
The ADS Library provides access to a large number of grey literature reports. These reports can be queried through the search interface which allows users to run queries specifically searching for those sites that produced medieval and post-medieval ceramics.
MPRG would welcome any comments from users of the Bibliography regarding the type of data they wish to retrieve and the ease with which this can be obtained, or not as the case may be. All comments should be sent to vicepres@medievalpottery.org.uk.
Acknowledgements
The Bibliography was created by Peter Davey; Lauren Adams Gilmour, Katherine Barclay, Peter Davey, David Higgins and Liz Pieksma collated and edited the work of volunteer compilers. With financial support from English Heritage a team led by Philippa Tomlinson at the University of Liverpool were responsible for the development of the 2001 online database, inputting and checking data, these were principally Nick Johnson, Susie White and Jenny Woodcock; Brenda Lowndes of Liverpool University Computer Services provided technical support. The project was managed for English Heritage by Sarah Jennings and Alan Vince provided computing and web advice.
Changes in staffing and work patterns at the University of Liverpool meant that maintenance of the Bibliography database was no longer practical and in 2009 MPRG approached ADS with a view to hosting the Bibliography. MPRG are grateful to Catherine Hardman and Jenny Mitcham whose work has enabled the on-line Bibliography to remain publicly accessible.