Introduction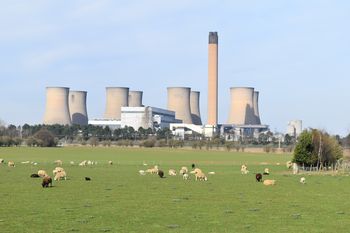 Eggborough Power Station in North Yorkshire ceased generation in March 2018. In accordance with 'best practice' guidance established by Historic England, a programme of historic building recording was undertaken in March 2020, during the initial stages of demolition. The record was required by Selby District Council LPA, on the advice of the principal archaeologist of North Yorkshire County Council, as a condition of planning consent. Work was completed by Ric Tyler MCIfA, commissioned by CSA Environmental acting on behalf of the site owners, St. Francis Group.
Eggborough was one of 13 oil- and coal-fired 'super-stations' built by the Central Electricity Generating Board (CEGB) based around the 500MW turbo-generator set, the largest then available, released for construction during the early 1960s and known colloquially as 'Hinton's Heavies' after Sir Christopher Hinton, CEGB Chairman (1957-64) who oversaw their introduction. Comprising four turbogenerators, the station had a combined output of 2,000MW. Together with nearby Ferrybridge 'C' and the slightly later 3,000MW plant at Drax, Eggborough forms part of a concentration of generating power on the River Aire and exploiting the North Yorkshire coalfields. Operated by National Power following privatisation of the industry in 1990, the plant was subsequently run by British Energy, EDF, Eggborough Power Ltd. and, from 2015, by the Czech-based Energetický a průmyslový holding (EPH). Following closure, the redundant plant and site were acquired by St. Francis Group in 2019.
The station was built between 1962-67 and operational by February 1967, though only officially opened in September 1970. The station was erected under the auspices of the CEGB's Northern Project Group to the designs of architect George Cooper of Sir Percy Thomas and Son, with Messrs. Rendel, Palmer and Tritton as consultant project engineers and Brenda Colvin acting as landscape consultant. It represents the 'sister' station to the former 1,000MW Ironbridge 'B' station in Shropshire, with which it shared both project architects, consultant engineers and principal contractors, John Laing Ltd., and with which it displays many common characteristics in terms of design and functionality.
The station comprises a standard grouping of structures based around the generating core of boiler house and turbine hall with attached control room, served by a single, four-flue chimney and a massive, fully-enclosed 400kV switch-house located axially. Eight natural-draught cooling towers of hyperbolic form are located to the north, arranged in two parallel lines within a single field, with associated cooling water (CW) pump house, while a coaling plant and extensive, 19ha. stocking area are sited to the south, served by an enclosing 'rail loop', a characteristic feature of this generation of stations. A gas turbine house to the south side of the main generation buildings formerly accommodated four Bristol Siddeley turbines, each of 17.5MW capacity. Significant modifications to the station occurred with the introduction of additional electrostatic precipitators in 2002 while 2005-2009 saw the retrofitting of flue-gas desulphurisation (FGD) plant to two units (3 and 4), together with associated handling/storage/processing buildings.
The constituent buildings of the complex, both original and secondary, are for the most part strictly utilitarian in nature, essentially comprising large enclosed spaces of rectilinear, orthogonal form for the accommodation of generation and related plant, and are largely free from any significant degree of architectural 'pretention'. Of itself, this use of simple, functional forms represents a fundamental move away from the design philosophy of previous eras that gave rise to the 'brick cathedrals' of the early-20th century, and reflects not only the adoption of the increasingly prevalent 'functional aesthetic' of the 1960s/70s, but also a greater focus on financial and budgetary constraints within the nationalised industry. The ranges are of structural steel or reinforced-concrete frame construction throughout, finished with a standard and consistent range of external claddings, namely lower brickwork and aggregate-faced concrete panels beneath profiled 'Galbestos' sheeting and Georgian-wired patent glazing. The incorporation of a fully-glazed 'screen' wall enclosing all three external elevations of the turbine hall at the operating level is of note. There is, however, nothing intrinsically innovative in the buildings themselves, either in terms of their architectural form and detailing, nor indeed in the processes that took place within, the latter dictated entirely by the engineering requirements of the 500MW-unit programme. Later additions to the plant were constructed in variant materials, largely in dark-grey brick and profiled-aluminium cladding and are likewise, if not moreso, strictly utilitarian in form.
Although certain elements of the station were subject to phases of repair and modification over the lifetime of the plant, and while other elements have been removed (eg. gas turbines) or replaced, and significant additions made (Lytag plant, secondary precipitators, FGD plant), the station's constituent buildings retain, for the most part, the functions for which they were originally designed and constructed, and the site's original functionality remains readily 'legible' in presentational terms. As such, the buildings present a good, representative example of a site type recently identified by Historic England as being 'highly threatened and increasingly rare'.
All surviving constituent buildings of the plant are described to a level broadly commensurate with a 'Level 2/3' record as defined by Historic England, cross-referenced to a comprehensive photographic record and illustrated with copies of original design drawings/diagrams and early photographs as appropriate. Lost structures have been included, where possible, for reasons of completeness, though the record is of a 'summary' nature in these instances, based upon secondary sources alone. A review of the documentary materials from the EPL archive (station and plant manuals etc.) has allowed for a context, both historical and technical, to be established in which to interpret the form and function of the site and its component parts. The station as a whole is considered within its landscape setting, and its 'Heritage Values' are assessed in evidential, historical, aesthetic and communal terms, in line with Historic England guidelines.
The current programme of historic building recording has allowed for a detailed study and record of the buildings, their construction, operation and general developmental history to be made, so far as possible from a non-intrusive survey, in accordance with current Historic England guidance. Together with previous studies of the 1,000MW station at Ironbridge 'B' in Shropshire, undertaken in 2017, at West Burton 'A' and Cottam in Nottinghamshire (2018) and at Rugeley 'B' in Staffordshire (2018), it forms part of a growing 'preservation by record' of an important class of industrial heritage asset.