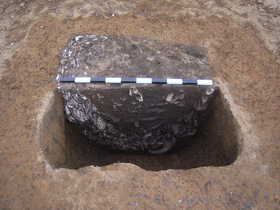 Southampton Arts and Heritage is the final recipient of all archives generated by archaeological fieldwork within the Southampton city boundary. Its role is to store and care for the objects and the paper, photographic and digital records which provide the permanent record of any excavation, watching brief or building recording.
Making these objects and records available is also an essential part of the service, and archives can be viewed by appointment. A database of itemised finds, individual objects made of metal, worked bone, worked stone, wood and other materials, is available on the Southampton City Council website.
The increasing amount of digital data in archives from archaeological fieldwork presents particular problems for long term archiving. The need to refresh and migrate data presents particular problems with increasing pressure on resources. Working with ADS, who can provide long term archiving, ensures that digital data from fieldwork can be made available to the widest possible audience.
Southampton's archaeology collections are designated as of national importance. The strength of the collections lies in the programme of systematic excavations undertaken since the 1960s. These have produced important evidence of everyday life in the medieval town and its Saxon predecessor, Hamwic. There is also increasing evidence of prehistoric activity in the area, and of life in the Roman town of Clausentum, the first urban settlement within the modern city.