Introduction
This database was originally created (as 80 column cards) by N W Alcock as a Vernacular Architecture Group project, with the collaboration of many members of the group. It was used to generate the published catalogues of cruck buildings in Cruck Construction: an Introduction and Catalogue CBA Research Report 42 (1981) and its predecessor, A Catalogue of Cruck Buildings (Phillimore for Vernacular Architecture Group, 1973).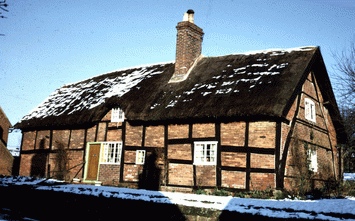 1 Birmingham Road, Stoneleigh, Warwickshire,
a three-bay (four-truss) cruck cottage, dated by dendrochronology to 1480
Since then the database has been migrated to PARADOX and to EXCEL, and it can be downloaded as files of comma-separated values. Its fields retain the letter codings that were introduced in 1973 to save space and input time. It has been added to intermittently, as material came to hand, and has now grown from c. 4000 (1981) to over 7,500 entries. A major update was carried out in summer 2002, when some counties were systematically revised. Additional entries and revisions have been incorporated up to April 2021, including the addition of jointed crucks in Devon, Dorset and Somerset from entries in listed building descriptions. Additionally, crucks in the short-lived 1974 counties of Avon, Cleveland and Humberside have been returned to their original counties. However, non-county unitary authorities are not included.
The database now has a total of 7,683 entries (4,477 true and 2,232 jointed crucks). Numerous maps and analyses based on the database in 2018 are published in Cruck Building: A Survey, ed. Nat Alcock, Paul Barnwell and Martin Cherry (Shaun Tyas, 2019). For updates and corrections, please contact the VAG Bibliographer [mail to bibliographer@vag.org.uk]
The database contains information on the name, location, function and condition of the cruck buildings with further details on the crucks themselves and bibliographic references. For a more detailed description of the database go to the Overview page, or carry out a search on the data using the Query page.
Vernacular Architecture Group
The Vernacular Architecture Group was formed in 1952 to further the study of lesser traditional buildings. The Group has over 600 members, including some 50 overseas members, and a number of affiliated groups and exchanging societies. Membership is open to anyone interested in vernacular architecture. Members are involved in all aspects of the recording and study of vernacular buildings including detailed local or regional surveys, studies of particular types of buildings, building materials and techniques, documentary evidence and principles of development.
Other VAG collections include: