Introduction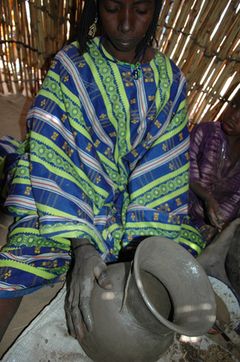 In 2008, an interdisciplinary and international team of archaeologists, ethnographers and museologists was convened in Oxford and Dakar by Dr Anne Haour and Dr Katie Manning (Sainsbury Research Unit [SRU], University of East Anglia), in order to debate the definition and characteristics of a type of pottery-decorating tool called 'roulettes'.
The team consisted of Noemie Arazi (Heritage Management Services, Belgium), Olivier Gosselain (Université Libre de Bruxelles, Belgium), Sokhna Ndéye Guéye (Université Cheikh Anta Diop, Dakar, Senegal), Daouda Keita (Université de Bamako, Mali), Ali Livingstone Smith (Africamuseum Tervuren, Belgium), Kevin MacDonald (University College London, UK), Anne Mayor (Université de Genéve, Switzerland), Susan McIntosh (Rice University, Texas, USA), and Robert Vernet (Université de Nouakchott, Mauritania).
Roulettes consist of one or several lengths of vegetal fibre, twisted, knotted, folded, wrapped or braided to form a tool, typically around 5-10cm long, that can be rolled across the surface of a clay vessel prior to firing. Roulettes of carved wood, or natural objects such as shells or pine cones, can also be used. This decorative technique quickly and easily produces aesthetically pleasing designs and it has been, and remains, very commonly used throughout Africa, and indeed more widely throughout the world (see Overview page).
The two meetings of the research team involved formal papers as well as the examination of museum holdings. No less importantly, they included unstructured time for discussion and for the sharing of images and materials. Such discussions resolved some of the fundamental inconsistencies and areas of shadow in the description of archeologically- and ethnographically- documented roulettes. They also enabled the elaboration of a comprehensive system for the classification of roulettes made from fibres. The images we feature on this archive have come out of this collaborative process.
For further details on this work please consult the two publications arising from it: firstly, an edited book, African pottery roulettes past and present: techniques, identification and distribution (Haour, A., Manning, K., Arazi, N., Gosselain, O., Guéye, S., Keita, D., Livingstone Smith, A., MacDonald, K., Mayor, A. McIntosh, S., and Vernet, R. [eds]), and secondly, a forthcoming special issue of the journal Azania, spring 2011. Together, these publications set a new standard for the identification and interpretation of roulette-decorated pottery and open new insights into the cultural meaning of variations in roulette style. Thus, they help this humble tool contribute to the building of our narratives of the West African past.
The aim of the present ADS archive, compiled by Katie Manning and Anne Haour, are to
provide a didactic resource for the identification of roulette pottery decoration;
highlight the potential of this decorative technique for archaeological studies around the world;
introduce to a broader audience the team's work on roulettes.
We gratefully acknowledge the support of the Leverhulme Trust, a grant from which made this research possible.