Introduction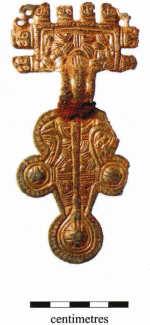 Square -headed brooch from Inhumation 65
Wasperton village lies on the first gravel terrace on the eastern side of the River Avon in Warwickshire, and so was a prime site for aggregate extraction. Excavation was initiated by Martin Carver in 1980 in advance of gravel quarrying, and undertaken by Warwickshire Museum between 1981 and 1985, under the direction of Gilles Crawford. The cemetery was excavated by a Warwickshire Museum team augmented by Manpower Services over the same period. The excavation took place before PPG16 planning guidance was in place, thus there was then no provision to research and publish the findings.
Excavators encountered a palimpsest of features dating from the Neolithic to the 7th century, proving the site's appeal for settlement through several millennia. The Neolithic and Bronze phases were published in 1995. The Iron Age and Roman phases are in preparation at the time of writing (2008).
The Early Medieval cemetery was located in a reused a Romano-British field enclosure, and was excavated in its entirety (together with an estimated 10 hectares surrounding it). The cemetery catalogue lists 215 inhumation burials and 26 cremation burials, employing Roman, British and Anglo-Saxon rites.
Research and publication of the cemetery was initiated and pursued between 1985 and 2005 by Martin Carver (of BUFAU and then University of York) who promoted dissertations by Gillian Heggie at the University of Birmingham and Jonathan Scheschkewitz at the University of Kiel (Germany), the latter co-supervised by Michael Müller-Wille.
This archive accompanies the research report:
Martin Carver, Catherine Hills and Jonathan Scheschkewitz 2009. Wasperton. A Roman, British and Anglo-Saxon Cemetery in Central England. (Woodbridge: Boydell Press).
The research for the present archive and its research report was funded through English Heritage by the Aggregates Levy Sustainability Fund (Project 3682). It was co-ordinated, edited and written by Martin Carver and managed to production by Cecily Spall of Field Archaeology Specialists Ltd.
The archaeological archive of the 1980-85 Wasperton excavation project, including the finds and excavation records, is held by the Warwickshire Museum, Warwick, under the general Accession No 1989/106.
For further information contact: Keeper of Archaeology, Warwickshire Museum, Market Place, Warwick, CV34 4SA Tel 01926 412500
Email: museum@warwickshire.gov.uk