Introduction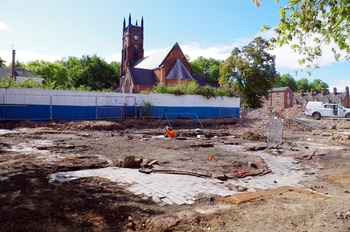 Wessex Archaeology was commissioned by Ecus Ltd, on behalf of Lovell Partnerships Ltd, to undertake archaeological mitigation works comprising a strip, map and sample excavation on land off the corner of Carrington Street and Trinity Street, Derby, DE1 2RE. The Site covers 0.079 hectares and is centred on NGR 435835 335640.
The work exposed the remnants of terraced housing comprising foundations, floor surfaces and other structural remains. To the rear of the houses, yard surfaces, outside toilets, drains and garden/property boundary walls were recorded. The housing was built, seemingly as three separate blocks, in the mid-19th century and was demolished in the early 1970s. Following demolition the local roads were widened, impinging on the footprints of the former buildings. Overall the arrangement of the exposed remains matches the layout of the Site as portrayed on historic maps and photographs.
The confirmed or likely location of a separate outside toilet could be identified for most of the houses. There was no definite evidence that the housing was not provisioned with these when first built. A possible soakaway, potentially for a more primitive type of sanitary provision such as a privy midden, was found sealed beneath a later toilet in one property, although this interpretation was not confirmed, and the feature may represent a drain instead.
No traces of any cellars were recorded, although it is proposed that these lay beneath the front portions of the houses, which were situated beyond the limits of the Site.
The earliest archaeological deposit seen on the site was mid-19th-century levelling material, which generally comprised a dirty yellowish brown sandy clay with fragments of brick/tile, typically 0.3–0.4 m thick. This likely represents redeposited natural, either imported to the Site, or arisings from the reduction of high ground within the Site itself.
Asbestos contamination prevented the investigation of the south-western quarter of the site.
The finds assemblage largely represents mid/late 20th-century material and was largely recovered from demolition rubble. No environmental samples were collected.
Census data from 1851 to 1911 reveals that the properties were the homes of the skilled working class, with women typically working in the mills, and men employed on the railway or associated trades. However, the presence of single-women heads of household, retired and unemployed occupants indicates that the rents of these properties were unlikely to have been high.