Overview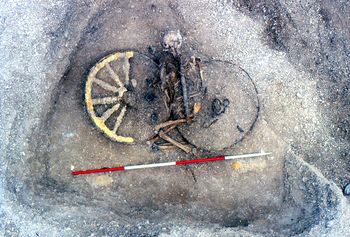 At the start of the project, the site archive was collated with the Iron Age Research Group at the University of Bradford. It included collections from East Riding Archaeological Research Trust, Hull Museums, Humber Archaeology Partnership, NMR (Swindon), John Dent and MAP (Malton).
The archive consisted of data from the excavations at Wetwang and Garton Slack directed by T.C.M. Brewster (1965-1975) and J.S. Dent (1975-1981/84) respectively. The two excavation campaigns took different approaches in terms of excavation and recording techniques and therefore the archive has been divided into two parts to reflect the very different organisation.
Brewster Excavations
Excavations carried out by T.C.M. Brewster were located between the villages of Wetwang and Garton, and consisted of a series of individual 'sites'. The primary archive produced from these site excavations, including the plans, sections, and field notebooks, had previously been converted to microfiche, and it is this that has been primarily used as the basis for the site archive.
The site database consists of cross-referenced lists of feature descriptions, environmental, sample and faunal database, as well as burial descriptions. Information from sections, such as fill descriptions, has been transcribed from the microfiche, which has provided a more detailed picture of the individual features. Each section and plan has also been individually exported as an image from the microfiche, grouped by site and subsequently catalogued. An overall site plan has been included within a geo-referenced CAD plan.
Also included in the archive is a copy of T.C.M. Brewster's Draft Report, accompanied by a complete set of illustrations and a fairly extensive collection of site and post-ex photographs. All of these images have been catalogued, and each has an accompanying excel spreadsheet detailing what they contain. Each site notebook has been digitised, and is supplied as an individual document.
Dent Excavations
Excavations carried out by Dr John Dent were also divided into a series of 'sites', each being given a unique two letter code, e.g. Site 6 was WS and Site 7 WE. The primary archive from these site excavations includes plans and sections, slides, and photographs, which have all been scanned and are provided as individual images and are fully catalogued. An overall site plan for each site has been included within a geo-referenced CAD drawing.
There were various boxes of index cards which contained detailed information on features, finds, and environmental sampling. All of this has been transcribed onto separate tables within an access database, and the information cross-referenced. Detailed skeletal cards were also inputted and scans of the cards have been included as part of the archive.