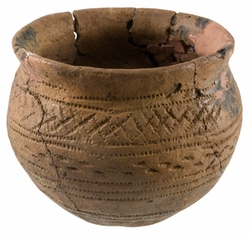 Museums Worcestershire is the final repository of archaeological archives excavated in the City of Worcester and the County of Worcestershire. Our role is to collect, curate and make available the finds, paper and digital archives generated through archaeological excavation. Objects and paper archives are stored at the Museum Collections Store in Worcestershire. From April 2013, all digital archives are deposited with ADS to ensure their security, viability and accessibility in the long term.

Museums Worcestershire is a joint service between Worcester City Council and Worcestershire County Council that manages four buildings: Worcester City Art Gallery and Museum, Worcestershire County Museum at Hartlebury Castle, The Commandery and the Museums Worcestershire Collections Centre. The service curates the collections of both authorities.

Worcester City Museum was founded on the collections of Worcestershire Natural History Society and has been collecting since the 1820s. For many years its purpose was to collect for the Severn Valley but in recent decades the collecting area has been limited to the city boundary. The City collection includes natural history, geology, fine and decorative arts, social history and costume, ethnography, numismatics and archaeology. Notable excavation archives include those from Deansway, Blackfriars, Lich Street, Newport Street and the Warmstry House porcelain archive.

Worcestershire County Museum was established in the 1960s around the Tickenhill collection and collects social history, costume, decorative arts, numismatics and archaeology. It collects archaeological material excavated within the county of Worcestershire with the exception of Worcester City and Bordesley Abbey. Notable excavation archives include those from Madresfield, Beckford, the Old Bowling Green in Droitwich and Bays Meadow Roman Villa.