Introduction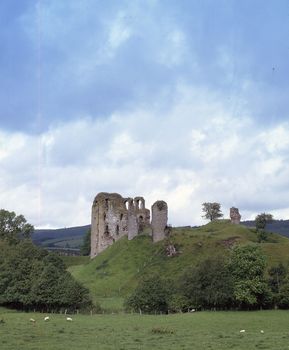 The small town of Clun lies in the valley of the river of that name in the south-western comer of Shropshire, close to the Welsh border but on the eastern side of Offa's Dyke. This area was part of the fluctuating borderland between England and Wales until shortly after the unification of the two countries in 1536. The earliest reference to the town appears in 1002, when there is mention of the will of Wulfric, 'aet Clune').
The first mention of a castle at Clun is not until 1140 but, given the strategic importance of the site in guarding the Clun valley, and in providing a base for Norman penetration through it, it is likely that a castle was established in the late-11th century by Picot de Say, who held 27 manors in 1086.
It is likely that this first castle was a simple variation of the standard motte-and-bailey type, making use of the natural high ground in a wide meander of the River Clun just below its confluence with the much smaller River Unk. Clun Castle passed into the hands of the FitzAlan family in or around 1155. Arrangements for the manning of the castle in wartime are known in the time of John FitzAlan, who died in 1272, when each fief held from him as Lord of Clun provided the service of a man with a corselet, and a horse for forty days.
In 1991 English Heritage took Clun Castle into guardianship and began to plan a major programme of repair and renovation. Prior to this work starting, the then City of Hereford Archaeology Unit was commissioned to produce an outline history of the site. This was followed by survey work on the upstanding section of curtain wall and its two flanking towers on top of the motte.
The main surviving masonry portion of the castle is the Great Tower, often, but inaccurately called the Keep, built into the side of the motte. This massive structure stands almost to full height, although it has lost its south wall, floors, and roof.
Some preliminary work, including the consolidation of a section of masonry which had suffered collapse during a minor earth tremor, was undertaken at Clun during August and September 1990. A full stone-by-stone survey of the tower was then made in advance of the repair work, carried out in 1992.
This survey provided the basis for a new analysis of the fabric, and the development of the castle as a whole.
A search of documentary sources was conducted by Henry Summerson in parallel with the fieldwork.