Introduction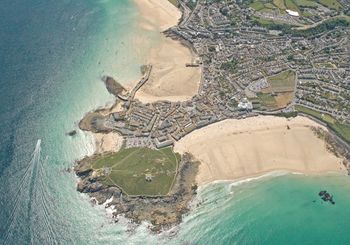 This archive includes the results of the Cornish Ports and Harbours project carried out between 2013 and 2017 by Cornwall Archaeological Unit for Historic England. The project aimed to establish effective methodologies for assessing the fabric, historic significance and character of English ports and harbours by using a study of those in Cornwall and the Isles of Scilly as a pilot.
It involved a rapid assessment of the forces for change affecting Cornwall's ports and harbours and their vulnerability or capability to benefit from change, classifying the sites according to a range of variables, undertaking historic characterisation of selected ports and harbours and carrying out limited field work at the selected sites. Outcomes of the project are a widely disseminated report, a Historic Environment Action Plan (HEAP), management recommendations and a list of sites and features within ports that are candidates for designation.
The project was carried out in four stages:
Stage 1: This stage was an assessment of the whole Cornish and Scillonian ports and harbours resource; it involved a rapid review of forces for change, previous work and sources. A long list of ports and harbours was compiled and transformed into an outline classification of sites using a number of variables - types of use, topography, chronology, scale, key components, current activity levels, associated settlement, and condition. This was then reduced into nine classes by a process of rationalisation: Beach; Civic provision, Commercial, Fishing, Industrial, Leisure, Local trading, Military and Multi-purpose.
Models for vulnerability and capacity to benefit from change were produced for each class and their significance assessed based on Historic England's Conservation Principles. Those classes most at risk and those most likely to benefit from change were then identified and a long list of potential sites for further study was produced. From this list 15 sites were selected for individual study and an updated project design was prepared for Stage 2.
Stage 2: This stage comprised further study of the 15 selected ports and harbours: Bude, Charlestown, Duckpool, Fowey, Hayle, Higher Town Quay and Old Quay, St Martin's (Scilly), Kilcobben Cove, Lerryn, Newlyn, Penberth Cove, Penzance, Portreath, St Mary's Harbour (Scilly), Truro and Wacker Quay. First the GIS database was set up and the study areas delineated. Rapid characterisation was undertaken of each port/harbour at scale of 1:2,500 to be viewed at the same scale with minimum polygon size of 0.1ha. Three previous time-slices were created for each port, based on 1940s RAF vertical photographs, c1907 2nd Edition OS mapping and c1840 Tithe mapping. Fieldwork was undertaken to identify typical components, identified in a gazetteer, and then individual reports were produced for each port/harbour.
Stage 3: During this stage the results were collated and reported on; products include this report, a summary of methodology and results for other local authorities to use, a PowerPoint presentation and a HEAP for Cornwall and Scilly's ports and harbours.
Stage 4: To ensure that assessment leads directly to actual protection, projects dealing with thematic subjects, such as this one, should have as a final stage the setting out of reasonable and realistic routes towards increased protection. A gazetteer long list of sites and features that are candidates was produced for consideration by Historic England's Designation Department. These were either candidates for new designation or features already designated that are proposed for review of extent or grade of protection. In preparing the gazetteer the main focus was on the ports and harbours selected for study in Stage 2. The Gazetteer has been submitted to Historic England's Designation Department for further consideration in discussion with Cornwall Council. In addition, following production of the HEAP and consultation with the LPA, a series of key management recommendations has been drawn up as separate document.