Introduction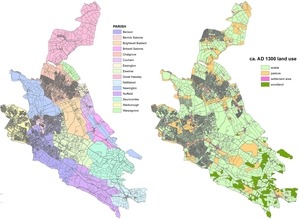 The resource comprises two complementary datasets produced by 'The South Oxfordshire Project', funded by The Leverhulme Trust in 2012–15. The project's objective was to investigate how from the early Middle Ages to the seventeenth century inhabitants' values, perceptions and sense of identity were related to the places in which they lived. The project started in 2011 as a pilot study organized jointly by VCH Oxfordshire and the University of Oxford, and funded by the John Fell Fund. Under the leadership of Dr Stephen Mileson, and thanks to Leverhulme funding, it was expanded to a three-year programme of research running until September 2015.
The research used intensive documentary and landscape research alongside concepts drawn from anthropology and sociology in order to understand the changing relationship between landscape character, settlement type and perceptions of landscape, locality and community. The study area comprised over 10,000 ha of mixed landscape in the former hundred of Ewelme. The hundred's 14 parishes included nucleated villages and large open fields (in the vale) as well as dispersed settlements and early enclosed wood-pasture landscapes (in the Chilterns). The area has a rich collection of documents and early estate maps, and strong archaeological potential. Analysis of documents, archaeology, standing buildings, early field-names and peasant bynames was framed around a GIS database constructed by Dr Stuart Brookes.
The project's archive comprises a spatial database of vector files, which were created by digitizing historic maps of the 14 parishes of Ewelme hundred (Oxfordshire). The digital archive consists of (1) a shapefile of all digitised fields and settlements of the 14 parishes in the South Oxfordshire hundred of Ewelme in the 19th century. Based on tithe maps of c.1840 and the Newington enclosure map of 1812 (used because the Newington tithe map depicts only the townships of Brookhampton and Holcombe); (2) an interpretative shapefile, based on medieval and early modern documents and maps, showing settlement and land use believed to be in existence c.1300. The database includes settlement areas (villages, hamlets and isolated farmsteads), arable land, pasture (including meadow) and woodland. Open-field strips are shown where depicted on 16th- to 19th-century maps; they would actually have been more extensive in the 14th century, but the map nevertheless conveys the dominance of common-field farming in the vale and its minimal presence in the Chiltern parishes of Nettlebed, Nuffield and Swyncombe.
References
S. Mileson, 'The South Oxfordshire Project: Perceptions of Landscape, Settlement and Society, c.500-1650', Landscape History, 33:2 (2012), pp. 83-98
S. Mileson, 'The Rural Hinterland', in N. Christie et al., Transforming Townscapes. From Burh to Borough: The Archaeology of Wallingford, AD 800-1400 (2013), pp. 382-8
S. Mileson and S. Brookes, 'A Multi-Phase Anglo-Saxon Site in Ewelme', Oxoniensia, 79 (2014), pp. 1-29
S. Mileson, 'People and Houses in South Oxfordshire, 1300-1650', Vernacular Architecture, 46 (2015), pp. 8-25
S. Mileson, 'Beyond the Dots: Mapping Meaning in the Later Medieval Landscape', in M. Hicks (ed.), The Later Medieval Inquisitions Post Mortem: Mapping the Medieval Countryside and Rural Society (2016), pp. 84-99
S. Townley (ed.), VCH Oxfordshire XVIII: Benson, Ewelme, and the Chilterns (Ewelme Hundred) (2016)
S. Mileson (with a contribution from S. Brookes), 'Openness and Closure in the Later Medieval Village', Past & Present, 234 (Feb. 2017)
S. Mileson and S. Brookes, Peasant Perceptions of Landscape: South Oxfordshire, 500-1650, forthcoming monograph