Extensive Urban Survey
English Heritage, 2004
Introduction to the Programme
The Extensive Urban Surveys (EUS) project is part of a national programme of surveys of the archaeology, topography and historic buildings of England's historic towns and cities, supported by English Heritage. The programme was launched in 1992.
The initial purpose of the programme was to help local authorities in England to implement Planning Policy Guidance Note 16, Archaeology and Planning in historic towns and cities. Now, the programme is also contributing to wider aims, such as the planning of regeneration and conservation initiatives. The programme is funded by English Heritage, and is being carried out by District Councils, County Councils and Unitary Councils across England.
The extensive surveys cover all the smaller historic towns of England on a county-by-county basis. Similar surveys will also cover major conurbations, such as Liverpool and Merseyside. These surveys are carried out through the archaeology service of the relevant county council or unitary council.
For the extensive surveys, the database is held within the local Historic Environment Record (or Sites and Monuments Record). These records are held by County Councils, Unitary Councils or, sometimes, by District Councils.
Related surveys have also been conducted under the Historic Landscape Characterisation Programme.
Completed Surveys (May 2016):
Surveys Underway (May 2016):
Leicestershire and Rutland
The map (below) highlights completed EUS surveys. The surveys from counties which are shaded dark red can be accessed through the ADS catalogue whereas light red counties have their survey data hosted on their own websites. Click on any of the coloured areas to access the relevant site.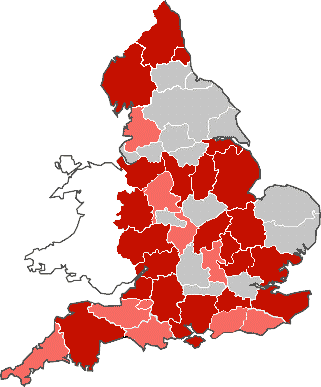 Information about the Extensive Urban Surveys and other Historic England urban projects can be found on the Urban Characterisation web page.