Introduction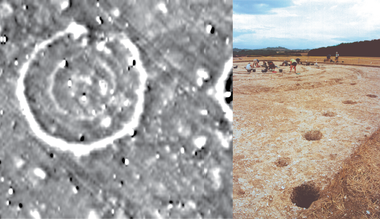 This resource builds upon the Historic England Geophysical Survey Database (see below for details) which as well as recording events in England, also covered a small number in other parts of the United Kingdom, by adding events in Scotland recorded through the OASIS system.
The Historic England Geophysical Survey Database was created in 1995 to provide a publically accessible index of all the geophysical surveys of archaeological sites undertaken by Historic England. Shortly after its inception its remit was expanded to include information about all surveys carried out over scheduled monuments and protected for which a licence is required under Section 42 of the Ancient Monuments and Archaeological Areas act 1979. A further pilot project in the late 1990s to record details of surveys in England carried out in the commercial and academic sectors added details of over a thousand new surveys to the database. However, it was not possible to continue this project and make the database a fully comprehensive record of English geophysical surveys. Nevertheless, by the end of 2011 the database contained records of more than 2700 surveys stretching back to the late 1960s.
In 2006 a geophysical survey sub-form was developed for the OASIS database in consultation with Historic England and the data structure for this was based on that used for the Historic England database. This lead to the decision in 2011 to merge the Historic England database with OASIS to create a more comprehensive record of UK archaeological geophysical surveys. As part of the merger, this new survey database resource was created to provide more flexible searching of geophysical records.