Introduction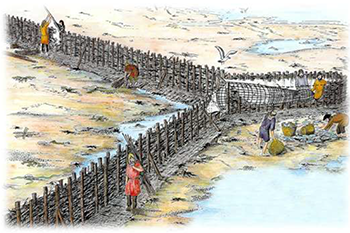 © Essex County Council
BLACKWATER ESTUARY FISH TRAPS MONITORING SURVEY PROJECT SUMMARY
The Essex tidal estuaries are the site of a number of timber-built fish traps, their distribution being particularly dense in the Blackwater estuary where six sites have been identified through the work of local archaeologists and aerial reconnaissance. The Blackwater examples are Saxon in date (Strachan 1998) and comprise large and complex monuments, comprising numerous wooden posts in various alignments, along with wattle-work (sails and rods) and basketry. This project aims to publish a paper on the more recent works on these sites in the county journal Essex Archaeology and History, with a digital research archive made accessible via the Archaeology Data Service website.
Previous studies have included limited ground-based survey (Strachan 1998, Heppell and Brown 2008), photographic survey, visits by local archaeologists, aerial photographic reconnaissance (Strachan 1998 and Saunders in press) and detailed survey of a complex of traps at Collins Creek (Hall and Clarke 2000). A series of field survey visits were made by Essex County Council Field Archaeology Unit during the period 2006-8 to further record new exposures and assess the impact of ongoing erosion of estuarine silts at the Collins Creek and Pewet Island fish trap structures. These visits established that significant erosion was indeed in progress, with substantial and hitherto unexposed parts of the traps actively being uncovered and other parts being damaged or destroyed altogether.
The recovered information adds to the understanding of these and other fish traps in the Blackwater estuary and provides measurable data with which to assess the nature and rate of erosion taking place in this inter-tidal environment. Additionally, a number of methodological lessons have been learnt that are of benefit to the improved investigation of such monuments in the inter-tidal zone. The results of the 2006-8 fieldwork, a comparison with the earlier results, along with consideration of the issues of erosion, research and management in/of the inter-tidal zone will be considered in the publication.
Hall, R. and Clarke, C.P. 2000 'A Saxon inter-tidal fish weir at Collins Creek in the Blackwater Estuary' Essex Archaeology and History 31 125-147
Heppell, E.M. 2011 'Saxon fishtraps in the Blackwater Estuary, Essex: monitoring survey at Collins Creek, Pewet Island and The Nass 2003-7' Essex Archaeology and History Vol 2, p76-97
Heppell, E. and Brown N. 2008 'Rapid Coastal Zone Survey and beyond; research and management of the Essex coast, UK' Journal of Wetland Archaeology 8 24-50
Ingle, C. and Saunders, H. 2011, Aerial Archaeology in Essex: The role of the National Mapping Programme in interpreting the landscape East Anglian Archaeology No 136
Strachan, D. 1998 'Inter-tidal stationary fishing structures in Essex: some C14 dates' Essex Archaeology and History 29 274-284