Overview
Background to the project
Between January and April 2003 Cotswold Archaeology (CA) carried out an archaeological excavation funded by the Aggregates Levy Sustainability Fund (ALSF) at Hartshill Copse, Upper Bucklebury, West Berkshire (centred on NGR: SU 5310 6850). The site lies within an active gravel quarry which is located to the east of Hartshill Copse and Dunston Wood, west of Burden's Heath Plantation, and bounded to the south by Hart's Hill Road.
In September 1986 the site of the gravel quarry was evaluated by Oxford Archaeological Unit. Machine-excavated trial trenches identified the extensive remains of a Late Bronze Age settlement covering an area of c. 200m x 100m on the summit of the ridge. Within the western part of this area human cremations, buried in Middle to Late Bronze Age pottery vessels, were also found. Smaller, discrete areas of prehistoric features were also located further north, and Romano-British features were identified close to the southern boundary of the site.
Following the evaluation, planning consent for mineral extraction was granted in 1989 and the site subsequently acquired by Harleyford Aggregates Limited. Stripping of the ploughsoil from the site commenced in early 2001; this revealed an area of c 1ha of dense archaeological features, in excess of what would reasonably have been anticipated from the evaluation. Discussions over the course of 2001 and 2002 between the West Berkshire Archaeological Officer (for the Local Planning Authority), Cotswold Archaeology (on behalf of the quarry operators) and English Heritage resulted ultimately in an approach to the Aggregates Levy Sustainability Fund for resources to finance the excavation of this phase, and consequently any fieldwork in this area was delayed, pending the result of the application. Formal application was made to the ALSF in 2002 and following approval of the Project Design in December 2002, excavation of the archaeological remains in the Phase 1 extraction area (hereafter the ALSF area) was carried out between January and April 2003.
The 2003 ALSF excavations
Excavation identified evidence of late Bronze Age (c. 10th century BC) and Early Iron Age (c. 5th century BC) settlement, including a large ditched enclosure, three post alignments, three roundhouses and a single urned cremation, as well as numerous other postholes and pits. In addition a number of features have been dated to the Roman and post-medieval periods. The late Bronze Age settlement comprised a pair of roundhouses (one a workshop, the other a dwelling house) with associated structures and groups of pits. Extensive sampling of these settlement remains yielded quantities of plain post-Deverel Rimbury potsherds and a substantial amount of iron-working residue known as hammerscale. The presence and spatial distribution of these artefacts, along with the carefully planned use of space within the settlement and its close realtionship with the post alignments, provides the evidence for the earliest ironworking site yet recognised in Britain. The 10th century occupation was relatively short lived, probably lasting no more than 50 years, after which the dwelling house was subject to some sort of 'closure' rite involving the burning and selective deposition of pottery vessels within the roundhouse postholes.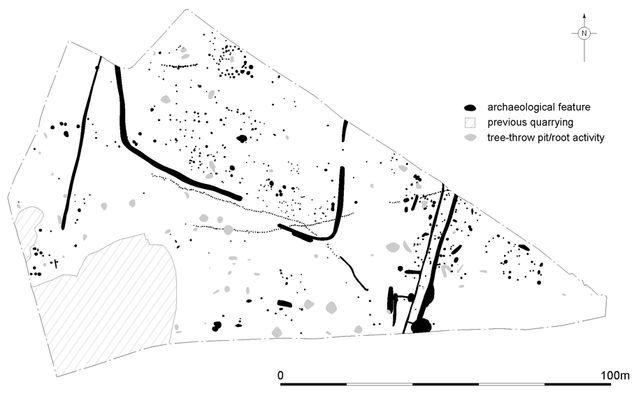 Plan of all archaeological features from the 2003 CA excavations
A number of Roman ditches were revealed, including three phases of an enclosure. Two iron-smelting hearths were also identified, one of which contained the in situ slag produced from the (last) firing of the furnace, as well as a small amount of pottery; a small quantity of Roman pottery was found in the soil deposit in the upper fill of this hearth, but it is possible that the hearths belong to an earlier phase of occupation. All of the dateable Roman deposits dated from the mid 1st to 2nd century AD.
The Digital Archive
The digital archive for the Hartshill ALSF project currently consists of the following files, for which permissions have been supplied for dissemination:
Project Reports
Cotswold Archaeology 2003: Hartshill Copse, Upper Buckleberry, West Berkshire. Post-Excavation Assessment and Updated Project Design. Cotswold Archaeology Report No. 03096
Cotswold Archaeology 2004: Excavation of a 10th and 5th-century BC settlement at Hartshill Copse, Upper Buckleberry, Berkshire, 2003. Cotswold Archaeology Report No. 04049
CAD files
The project report is accompanied by the master plan of the excavations at Hartshill quarry, available as a DXF file on the downloads page. The table below provides a reference guide to layers and conventions incorporated in the file.
| Layer | Description | Conventions |
| --- | --- | --- |
| EVAL | 1986 Evaluation trench | Solid lines (green) |
| FEATURE | Archaeological features | Solid lines (black) |
| SITE | Extent of site | Solid / dot-dash lines (black) |
| TREE_BOWL | Tree bowls | Solid lines (red) |
Photographic Archive
A selction of digital images recording the site excavation.
Non-digital Archive and Publications
In addition to the reports and data contained within the digital archive the ALSF project also produced the following non-digital outputs:
Journal Articles
Collard, M., Darvill, T. and Watts, M. 2006: Ironworking in the Bronze Age? Evidence from a 10th century settlement at Hartshill Copse, Upper Buckleberry, West Berkshire, Proceedings of the Prehistoric Society 72.
Collard, M. 2004: Hartshill Quarry. The oldest ironworking site in Britain? Current Archaeology 195, 134-9
Cotswold Archaeology 2005: Ironworking in the 'Bronze Age', IFA Yearbook and Directory 2005, 24-25
Cotswold Archaeology 2005: Hartshill Quarry. The oldest ironworking site in Britain? Cotswold Archaeology Annual Review 15
Warman, S., Bayliss,A., Brett,M. Bronk Ramsey, C., Collard, M., McSloy, E., van der Plicht, J., Watts, M. and Young, T. 2006: Hartshill Quarry. The oldest ironworking site in Britain? Poster for radiocarbon dating conference, April 2006.
Lectures / Academic papers
Public Lecture: Thatcham Historical Society, 29 November 2004. Excavations at Hartshill Copse, Buckleberry, West Berkshire
Public Lecture: Bournemouth University Archaeology Society, 3 March 2005. Ironworking in the Bronze Age.
Public Lecture: Newbury District Field Club, 23 March 2006. A prehistoric industrial revolution? Archaeological excavation at Hartshill Quarry, Upper Buckleberry.
Public Lecture: Thatcham Festival of Arts and Leisure, 11 October 2005. Bronze Age finds and more on Hartshill
Public Lecture: Berkshire Archaeology Society, 9 December 2006. Iron Age sites around Thatcham.
Meetings / Technical Forums
English Heritage ALSF Projects Seminar, 11 September 2003. Hartshill, Berkshire.
Paper at IFA Conference: session 'Highlights of British Archaeology', University College, Winchester, 23 March 2005. Ironworking in the Bronze Age: excavations at Hartshill Quarry, Upper Buckleberry, West Berkshire.
Other
Presentation at CA Staff Training Day, 2 March 2005. Hartshill Copse, Buckleberry, West Berkshire
The Archaeological Data Service (ADS) do not hold any further information regarding these non-digital outputs, any queries should be directed to the depositor.