Introduction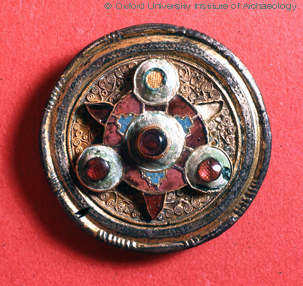 Kentish disc brooch. M 6491
The county of Kent is exceptionally rich in Anglo-Saxon cemeteries. Systematic excavations of some of these cemeteries in the 18th and early 19th centuries provided a wealth of finds that reflect Kent's close political and economic ties to the Frankish world in the 5th to 7th centuries. Excavations by the Revd Bryan Faussett in 1757-73 uncovered c. 750 graves from sites at Crundale, Guilton, Kingston Down, Bishopsbourne, Barfrestone and Sibertswold Downs, Bekesbourne and Chartham Down. Further excavations, in particular those carried out at Bifrons and Sarre in the 19th century, raised the number of excavated graves to well over 1000. The bulk of information was made available to subscribers in the Inventorium Sepulchrale (Faussett 1856) and in the journal Archaeologia Cantiana.
In 1961, the need to re-publish this important material to a modern standard led Sonia Hawkes of the University of Oxford's Institute of Archaeology to undertake the publication of Kentish cemeteries as the first stage of a national monograph series, the Corpus of Anglo-Saxon Graves and Grave-Goods. Work carried out between 1961 and 1971 dealt with the c. 1140 graves and large numbers of unassociated objects from Bifrons, Sarre and the seven sites excavated by Faussett, resulting in an extensive archive comprising object descriptions, drawings, photographs and X-rays. The Bifrons burials have been posthumously published elsewhere (Hawkes 2000).
The project website; http://inventorium.arch.ox.ac.uk/ website makes the remainder of the archive widely available for the first time. It is hoped that it will enable future generations of researchers to gain a better understanding of the origins of the Anglo-Saxon kingdoms.
Bibliography
B. Faussett (edited by C. Roach Smith) 1856 Inventorium Sepulchrale: an account of some antiquities in the county of Kent, from A.D. 1757 to A.D. 1773, privately printed London
Brent, J. 1863 'Account of the Society's Researches in the Saxon Cemetery at Sarr', Archaeologia Cantiana 5: 305-22.
Brent, J. 1866 'Account of the Society's Researches in the Anglo-Saxon cemetery at Sarr', Archaeologia Cantiana 6: 157-85.
Brent, J. 1868 'Account of the Society's researches in the Anglo-Saxon cemetery at Sarr', Archaeologia Cantiana 7: 307-21.
Digital photography of images in the unpublished sources in National Museums Liverpool.
Faussett, B, 1772, Field Notebook
Faussett, B. 1757-73, Journal of Excavations or Inventorium Sepulchrale Volume I - VI.