Introduction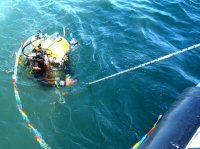 The Wrecks on the Seabed project tests ways of assessing and evaluating wreck sites to assist with understanding the effects of marine aggregate dredging on shipwrecks. The project is supported by the Aggregate Levy Sustainability Fund as administered by English Heritage. The project has continued through two rounds of the ALSF funding running from 2002 to 2006.
In all, 20 wrecks have been investigated by Wessex Archaeology using a variety of methods of hydrographic survey, remote sensing and diving survey. The overall aim of the project is to provide industry, regulators and contractors with guidance on the archaeological assessment, evaluation and recording of wreck sites. Such a framework is important when considering the time and cost of marine investigations. The framework also promotes effective communication between industry, regulators and contractors by defining comprehensiveness and detail for differing levels of investigations suggesting specifications for surveys at each level.
Round 1:
Round 1 of the project started in July 2002 and continued until March 2004. Fieldwork took place in August-September 2002 (Year I), and in July- September 2003 (Year II).
The project adressed three levels of investigation, using both geophysical and diver-based techniques:
Field assessment
Non-intrusive evaluation
Rapid in situ recording
Methodologies were developed on a sample of known (but generally unidentified) wreck sites off the coasts of Hampshire and Sussex, UK. The wrecks included both metal and wooden-hulled vessels, and aircraft. The Year I geophysical investigations included sidescan and magnetometer surveys of 17 sites. In Year II, detailed magnetometer, sub-bottom and multibeam surveys of seven sites took place. Diving investigations in Year I included assessment of nine sites, using surface-supplied divers equipped with video, digital still cameras and underwater tracking. In Year II four out of seven wrecksites were dived on. In situ recording took place on three sites.
Also as part of Round 1 Wessex Archaeology undertook a variation on the Wrecks on the Seabed project entitled ALSF 3594 Multibeam Sonar, a project that assesses multi-beam sonar survey (also known as swath bathymetry) and its application to the archaeological evaluation and recording of wreck sites on the seabed. Four Designated Historic Wreck Sites were added to those that are being surveyed as a variation on Round 1 so that the assessment of archaeological applications of multi-beam sonar technology will also relate to sites designated under the Protection of Wrecks Act 1973.
Round 2:
Round 2 of Wrecks on the Seabed commenced in 2005 and consisted of a geophysical section and a diving and remotely operated vehicle (ROV) section. During Year 1 of Round 2 aspects of geophysical surveys on deep water sites and area survey methods and the geophysical identification of ephemeral sites were examined. Also during Round 2, Year 1 the diving and ROV section of the project dealt with the infrastructure of diving projects as well as the application of ROV survey methods on shallow wreck sites.
These deep water geophysical surveys and the ROV work conducted on shallow sites served as the basis for the deep water ROV wreck surveys conducted in Round 2, Year 1. The deep water ROV surveys developed out of feedback received from the aggregate industry during Round 1 of the project in which the question of the applicability of the tested methods to sites in up to 60m of water was raised due to the possibility of the aggregate industry expanding its activities into deeper water in the future.
To assess whether the ROV survey methodologies developed during R2, Year 1 of the project could be applied to a deepwater environment, three unknown wreck sites in water depths between 50m and 60m were surveyed with multibeam sonar, sidescan sonar and magnetometer in Round 2, Year 1 as part of the geophysical section of the project. The acquired geophysical data was used as the basis for the ROV survey, and all three sites were subject to an ROV survey during Round 2, Year 2 aimed at achieving Level 2 or 3 site recordings.
Archives from Round 2
Wrecks on the Seabed R2: Assessing Evaluating and Recording (Liberator)
Wrecks on the Seabed R2: Assessing Evaluating and Recording (U86)
Wrecks on the Seabed R2: Assessing Evaluating and Recording (Unknown)