The UK's marine heritage is extraordinarily rich. Shipwrecks date from the Bronze Age to the World Wars, bearing testimony to Britain as an island nation, and a destination for trade and migration. Aircraft losses, inundated monuments, ports and seaside resorts all tell personal stories of struggles and successes. Before the Bronze Age, a great deal of what is now the North Sea floor was forest, hill and plains, peopled by prehistoric communities.
This heritage, covering 23,000 years, is represented by collections of charts, documents, images, film, oral histories, sonar surveys, seismic data, bathymetry, archaeological investigations, artefacts, objects and artworks. But they are often dispersed, unconnected and inaccessible. This matters because the story of our seas is of huge interest to the UK public, and because our exploitation of our seas for food, leisure, trade and energy is intensifying. If we are to reveal new stories and manage our past effectively and in sustainable ways, we need to join up these collections and unlock their potential.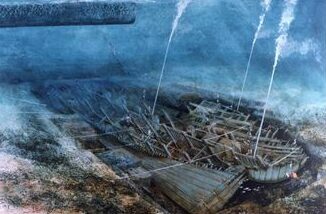 UNPATH aims to reshape the future of UK marine heritage, making records accessible for the first time across all four UK nations and opening them to the world. It will devise new ways of searching across collections, visualising underwater landscapes, and identifying wrecks and artefacts from them. UNPATH will also deliver tools to protect our most significant heritage, while inviting the public to co-design ways of exploring the archives in order to uncover previously untold stories and new questions to guide future research.
Barney Sloane, Historic England's Principal Investigator for 'Unpath'd Waters: Marine and Maritime Collections in the UK' said: "As an island nation, our maritime heritage is of fundamental importance to who we are. I am delighted to be leading one of the five Discovery Projects known as Unpath'd Waters. It will transform the way in which researchers and the public can access the huge variety of collections held in museums, universities, heritage institutions, commercial organisations and indeed by the public. The project will bring together expertise in digital humanities, computer science and marine heritage and will unleash the massive research potential of our shared maritime past."
Project partners: Historic Environment Scotland, MOLA (Museum of London Archaeology), National Maritime Museum, the Universities of Bangor, Bradford, Portsmouth, St Andrews, Southampton, Ulster, York, Glasgow School of Art, National Oceanography Centre, Mary Rose Trust, Maritime Archaeology Trust, Nautical Archaeology Society, Royal Commission on the Ancient and Historical Monuments of Wales, Wessex Archaeology, Welsh Government Historic Environment Service, Department for Communities Northern Ireland, Lloyd's Register Foundation, Manx National Heritage, Marine Management Organisation, and Protected Wreck Association.
The ADS is playing a significant role in UNPATH, leading the work on aggregation of marine data from all UK state heritage agencies, academic partners, and commercial archaeological contractors, using experience gained in ARIADNE. ADS will also be working with UNPATH partners to develop an ontology and metadata schema for marine data, and we will make sure that it is compatible with ARIADNE's AO-Cat, to ensure European interoperability. ADS will harvest text and image data, supplying it to those partners leading on natural language processing and image processing for data enhancement, and to the three research project case studies which are at the heart of UNPATH. For datasets that don't have a designated national repository, ADS will provide long-term hosting and archiving, for such exciting sites as the wreck of the Mary Rose. ADS will supply additional data for the UK's marine heritage to the current ARIADNE portal, but we also plan to explore re-usage of the portal software and re-use the ARIADNE triplestore to create a marine-focussed instance of the ARIADNE portal.
Image credit
An artist's impression of diving operations on the wreck of the Mary Rose. MR87.5011TD Courtesy Jon Adams © Mary Rose Trust.