Overview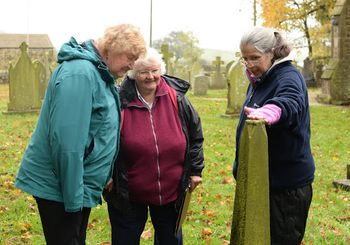 Burial spaces offer a unique opportunity to study named individuals and the communities to which they belonged. In addition, burial space research can shed light on changes in fashion, society, economy, attitudes to death and commemoration.
Almost every graveyard contains a wide variety of monument types, and yet there is also a degree of standardisation. This means that gravestones offer a fascinating opportunity for classification. By analysing the adoption of particular monument forms and styles, it is possible to identify regional and national trends. More general changes over time are cross-cut by the particular preferences and predilections for memorialisation developed in relation to different social, religious and familial identities, the practicalities of paying for and sourcing materials, and the skills and stylistic leanings of individual masons.
Surveys submitted to the Burial Space Research Database have been standardised to a format agreed with representatives from community groups, Historic England and Churchcare during the DEBS project, and the system described in the Council for British Archaeology handbook Recording and Analysing Graveyards has been updated by Harold Mytum and will be available for use by community groups and heritage professionals, together with advice documentation. This ordering of data allows fine-grained comparisons within and between datasets, enabling exciting new burial space research that transcends individual sites and surveys.