ADS 3D VIEWER
A 3D Real-Time System for the Management and Analysis of Archaeological Data
About | Object Level 3D Viewer | Stratigraphy 3D Viewer | Project Team
The second version, the Stratigraphy 3D Viewer, is an extension which allows the exploration of a specific kind of aggregated data: the multiple layers of an archaeological stratigraphic sequence. Before the development of the 3D viewer the ADS repository stored the 3D models of each stratigraphic unit as single objects, without the possibility to explore their spatial and temporal relationship. The Stratigraphy Viewer aggregates the different geometric layers of archaeological stratigraphy into a single 3D environment, whereby the user may turn layers on and off, control their transparency, and explore the layered geometry using a simple mouse- or touch-based navigation mechanism, specifically designed to manipulate these kind of geometries (Fig). This allows those unable to participate directly in the fieldwork to access, analyse and re-interpret the archaeological context remotely.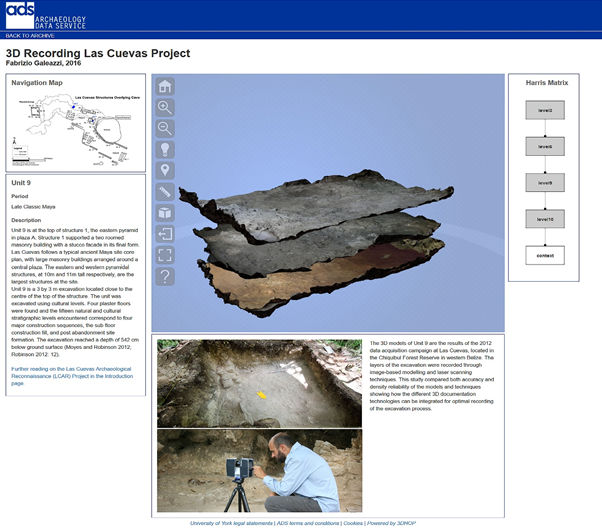 The ADS 3D Viewer infrastructure aims to contribute to an ongoing commitment of the European Research Council to support cyber-infrastructures which enhance and promote access to and preservation of European Cultural Heritage.
The ADS 3D Viewer is the first example of a web-based visualization system for the preservation and analysis of archaeological stratigraphy integrated within the framework of a trusted digital repository. One of the main strengths of the viewer is its flexibility and adaptability. The ADS Stratigraphy 3D Viewer can be adapted and applied to case studies that use different excavation methods (i.e. arbitrary or stratigraphic). Moreover the structure of the viewer and the partition of 3D data can be adapted to case studies that require different visualization and organisation of the archived data.
One of the primary goals of the ADS 3D Viewer project was the development of a tool that could have a significant impact upon archaeological practice, integrating both traditional and innovative data acquisition methods. The ADS 3D Viewer will help us understand if the effective integration of 3D technologies in day-to-day fieldwork practice is really possible, favouring the 'digital turn' in the archaeological recording on site.
By increasing the accessibility of digital and metric 3D representations of the excavation process and facilitating the interpretations made by different scholars of the same context on the web, this research has the potential to transform the discipline, allowing inter-disciplinary, cross-border and 'at-distance' collaborative workflows, and enabling easier access to and analysis of archaeological data.
For more information see:
Galeazzi, F., Callieri, M., Dellepiane, M., Charno, M., Richards, J.D. and Scopigno, R. (2016) 'Web-based visualization for 3D data in archaeology: The ADS 3D viewer', ''Journal Archaeological Science: Reports'' 9, 1-11. Available https://doi.org/10.1016/j.jasrep.2016.06.04..
---
Contact
Dr Fabrizio Galeazzi
Department of Archaeology
University of York
King's Manor
York
YO1 7EP
Email: fabrizio.galeazzi@york.ac.uk
Project partners
Archaeology Data Service, University of York
Visual Computing Lab, ISTI-CNR