The reports are archived by the ADS.
Type and search a contractor and click 'Go' to view all available reports from that contractor or browse list of contractors here.
<! --- >
Results for Barry Hillman-Crouch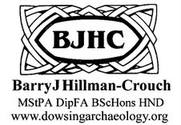 "I am a freelance professional archaeologist with 30 years experience in Essex and its surrounding counties. I have a Master of Studies Degree in Professional Archaeology (Oxford), a Post Grad Diploma in Field Archaeology (Oxford), a BSc in Aero Engineering (Kingston upon Thames) and an HND in Archaeological Illustration (Swindon College of Art).
I am listed on Essex, Herts and Suffolk County Council's list of approved service providers. Prior to becoming freelance in May 2007 I worked in the Archaeology, Historic Buildings and Urban Design Sections of ECC for 16 years.
I specialise in recording timber-framed and other historic buildings, producing description and analysis reports, impact analysis and justification reports and written schemes of investigation for watching briefs on small works. I undertake decay testing survey using a Sibert Decay Testing Drill.
I also offer digitally rectified photography for recording historic fabric to a level accepted by English Heritage and other government bodies. This is a system I devised myself using Photoshop CS to rectify high quality digital photographs from a Canon SLR.
My range of services is shown below and more detail is available on my website which I design and administrate. This includes many examples of my recent work of which I attach a list of samples from last year. Although based in Essex I work in regularly in Suffolk, Herts, Bedfordshire and Cambridgeshire as well as occasionally as far afield as Cornwall, Hampshire, Leicestershire and Norfolk."
Click on the title of the document to see more details and use the file type link to go straight to the report. Where multiple files exist for a report, you will need to go to the full details page in order to access the files.
Cite this report listing using this URL: http://archaeologydataservice.ac.uk/archives/view/greylit/browse.cfm?unit=Barry Hillman-Crouch