Metadata.
Something extremely important to the long-term health and reuse of data and yet the mere mention of it can cause people to shut off and run away. So, what is it and how is it different from data?
Metadata is the data about data. I think that sums it up quite nicely, don't you? Ok, let's phrase it a different way. It's essentially the documentation needed to make the data findable, understandable, and useable. It allows for verification of claims, reuse for future projects, and more.
Perhaps some visuals would help. Below is some data, 5 trench raster images in this case. In which English region was each photo taken?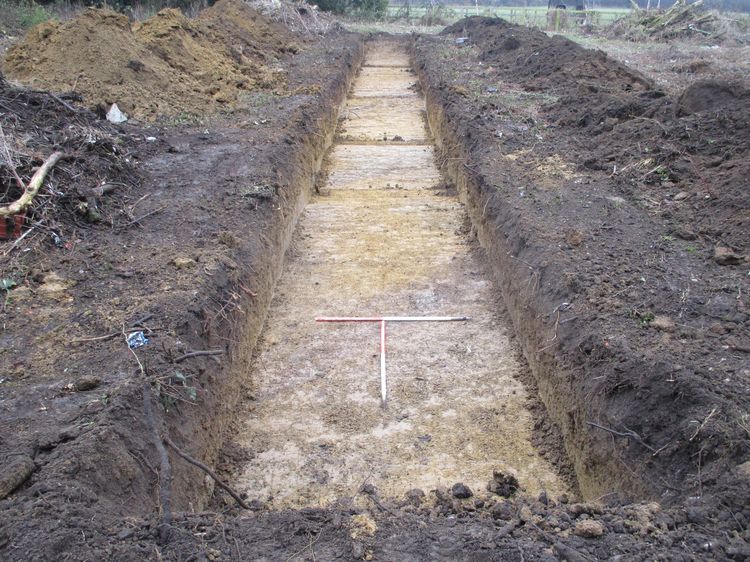 Easy right? Well, it would be if you had access to the proper metadata. Metadata describes and gives context to the data, making it possible to verify, reuse, discover, and share data, as well as acknowledging the creators and creative process behind the data.
Each of these trenches come from a different ADS archive. Yet with no metadata, the usefulness of these images is limited to what you see above you.
Additionally, this data is created as a record which allows for verification of an event taking place or as evidence towards understanding a site or find. These trench photos show that work has been undertaken and no archaeology (in most cases) was found. Without the proper metadata, these images are close to interchangeable which prevents them from reinforcing any potential conclusions.
We require all data deposited with us to have a minimum amount of metadata associated with it because without it, even the most exiting find can have no reuse potential or verification ability.
The Prittlewell princely burial, arguably one of the richest and most important Anglo-Saxon burials and the only one to be excavated to modern standards. Below is an image from the collection that was deposited with the ADS. What is it?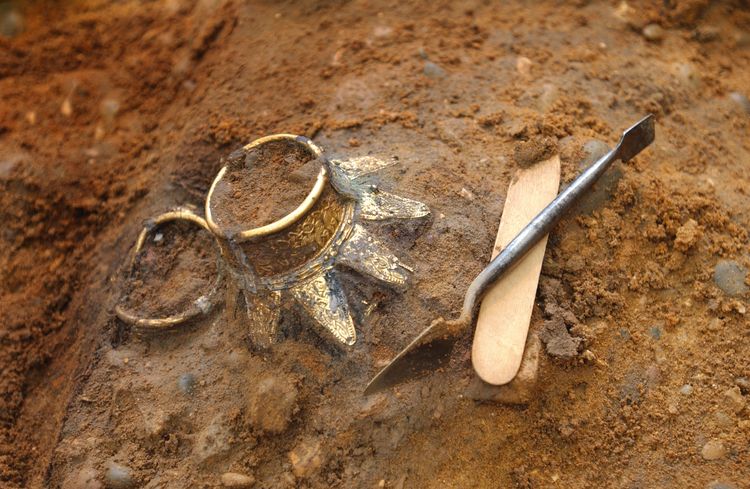 Did you guess it was a pair of wooden bottles with elaborate decorative metal rim mounts placed to the north of the coffin? From the metadata that was deposited with them we know not only what they are but the following information as well:
Collection
The Prittlewell princely burial
Title
A pair of wooden bottles with elaborate decorative metal rim mounts placed to the north of the coffin
File name
02104005.jpg (Also Archive number in this case)
Sitecode
EX-PRO03
Accession Number
44
Context
246
Created date
2018-03-01
Copyright
MOLA
Creator
MOLA (AC photographer)
Coordinates
OSGB 587872E 187430N
Location
England, East of England, Southend-on-Sea, Prittlewell
Subject(s)
COMPOSITE (Material), VESSEL (Object)
Period
EARLY MEDIEVAL (England)
Data Type
Raster Image
File Type
JPEG File Interchange Format 1.01
Checksum
663a5d5cb9b1091ebf8d8e53494063a4
Related Documentation
Prittlewell image metadata (ADS_raster_metadata.csv).
Prittlewell image registry 02 (EX-PRO03_image_reg02.csv).
Pg 57 of 'The Anglo-Saxon Princely Burial at Prittlewell, Southend-on-Sea.
A table listing the metadata deposited with the Prittlewell image.
With this metadata, the reuse of this image increases significantly. Researchers could use the context number to know what else was buried with these bottles or reuse the image in a publication (with proper credit of course). Additionally, just simply having this photo with all the attached metadata helps show that yes, these bottles were found at this site, on this day, at this time.
The more metadata that accompanies deposited data, the more reuse potential there is and verification abilities. The ADS requires a minimum amount of metadata when depositing with us but the more the better not just for images, but all data. We want all the data we archive to be used by future projects, whether it's as simple as verifying where there is no archaeological data based on trenches or as complex as trying to understand everyday life in Anglo-Saxon England, it's all important.
Reuse, verification, and more; it all begin and end with metadata.
Oh, I suppose I should actually say were the trenches where from…
Table listing the English region and the ADS archive for the 5 trench photos.