Overview
The Towns
The atlas contains detailed maps and information for thirteen of Edward's new towns. All of the towns were founded within a short period of around thirty years between 1277 and 1303. This intense burst of urbanising activity came towards the end of a long process of urban development within Britain straddling the whole of the middle ages. This process involved not only newly-created towns but also an expansion of old-established ones. Such urbanisation was paralleled in other regions of medieval Europe, too, and reveals the energy and industry of those living in this period. Indeed, without their town-building activities the map of urban Europe would look very different today.
The majority of the towns included in this atlas lie in Wales, in particular North Wales. The reason for this concentration of new towns stems from Edward's need to populate the Welsh region of Snowdonia with English colonists. Edward sought to contain the Welsh, and the towns that were created provided a means for the colonists to engage in trade and commerce, at the same time helping to secure English control. Of course towns alone were not enough to do this. Castles were also required, and it is the castles built following the two wars Edward led in Wales that still dominate many of the new towns and provide today a rich source of tourist revenue through the visitors that come to see them still. The towns themselves were in most cases equipped with their own defences linked into those of the castles, so that the castle and town were made one. This is the situation at the towns established soon after end of the first Welsh war, in 1277-78, including Flint, Rhuddlan and Aberystwyth, as well as those that followed the second Welsh war, in 1283-4, including the celebrated castle-towns of Caernarfon, Conwy and Beaumaris. As well as these defended towns others were established more as market centres, some with castles, as at Cricieth and Holt, and some without, as at Caerwys and Overton. One such town, Newborough on Anglesey, had been created deliberately to rehouse a Welsh population moved to make way for the king's new castle-town of Beaumaris. Edward's towns in Wales all remained quite small, and today only Aberystwyth, Caernarfon and Flint have sizable urban populations.
In contrast, England at the end of the thirteenth century was well-populated with towns and cities, and urban life prospered as it had never done before. Even so, there were still some occasions when new towns had to be created. This was the case for the English towns established by Edward. They filled-out an already densely urbanised country. In the south of England, facing France, two new towns were established for commercial reasons, to help foster trade, while in the north-east of England, the king played a role in redeveloping two existing towns of importance, one strategically placed on the Anglo-Scottish border, and another on the east coast of England, on the River Humber. Of the two on the south coast, one, Winchelsea in Sussex, was a replacement for an older town that was in the process of being washed away by coastal inundation. The other, Newton in east Dorset, also had a maritime location, on the shore of Poole Harbour. Both towns suffered economic decline in the fourteenth century, such that Newton now is completely disappeared and known only in documentary sources and by a surviving place-name. Further north, Berwick on Tweed had been gained by Edward from the Scots, and a colloquium in 1296 set up to decide how best to build the town after the devastation caused by the conflict, while a town originally known as Wyke upon Hull on the banks of the Humber was taken into the king's hands because of its commercial and strategic location and expanded and re-named Kingston-upon-Hull – the 'king's town'.
There are, then, a sizeable group of towns, both in England and Wales, which either saw changes during Edward's reign or were established from new. Of these 'Edwardian' towns some are excluded from the atlas. There are a number of reasons why this is. First, for those towns that have decayed over time, such as Bere, Mostyn and Newton, there are no longer surviving remains to be mapped. Second, there are the towns which were not really 'new' towns but simply a refoundation of an already existing town, as with Berwick, Builth and Kingston. Thirdly, there are some towns of this period that were not created by the king himself but were instead the result of the activities of his noble lords – aristocrats such as Reginald de Grey and Henry de Lacy who created new towns under royal licence adjacent to their castles at Denbigh and Ruthin, both in North Wales

[top]
The following towns are mapped and discussed in detail in the atlas:
Edward's 'new towns'
Information regarding other towns can also be downloaded as a PDF document.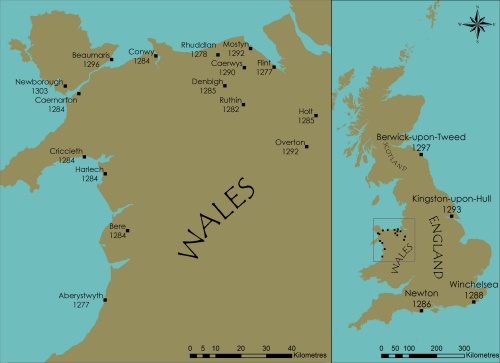 [top]