The annual Computer Applications and Quantitative Methods in Archaeology (CAA) Conference was held this year from 3rd to 6th of April in Amsterdam, Netherlands. 2023 marked the 50th anniversary of the conference, which first convened in Birmingham in 1973. The organisation grew out of a small group of archaeologists and mathematicians interested in computer applications working in the UK, and has gradually evolved into an international event, having met in more than 20 countries and on 4 continents.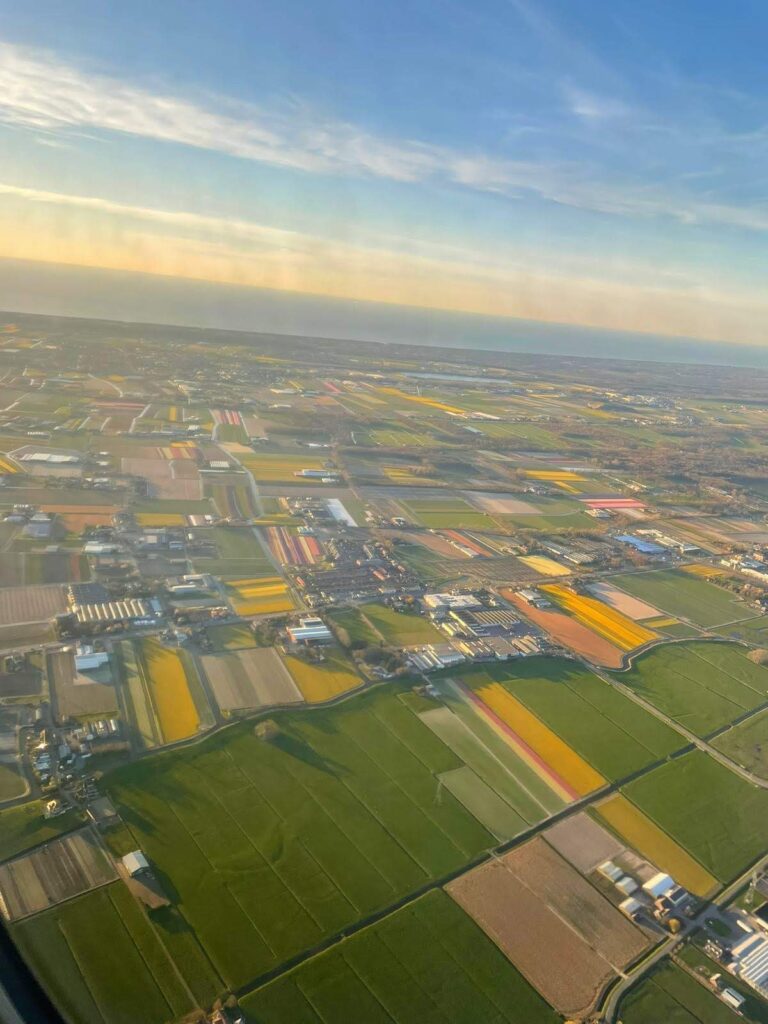 I was lucky enough to fly out to Amsterdam to attend this year's conference, along with four other members of ADS staff – Dr Julian Richards (Director), Dr Holly Wright (Research Projects Manager), Teagan Zoldoske (Digital Archives Officer) and Jamie Geddes (Digital Archives Assistant). Early April was a perfect time to visit the wonderful city of Amsterdam, and the weather was fine – it was also the middle of tulip season in the Netherlands, which meant we could see the strips of multi-coloured tulip fields from the plane as we flew into Schiphol airport!
Over the four days of the conference, which was held at the RAI Conference Centre in the Zuidas business district of Amsterdam, more than 300 archaeologists, mathematicians and computer scientists from around the globe met to deliver 44 sessions of presentations and round-table discussions, each exploring an aspect of digital applications to archaeology.
A particular emphasis on the conference's theme '50 Years of Synergy' examined both the current state of this continually growing field, as well the history of CAA, reflecting on the developments of the last 50 years. Topics discussed included, but were not limited to, 3D modelling, spatial analysis, databases, field recording techniques, remote sensing, data mining and digital archiving.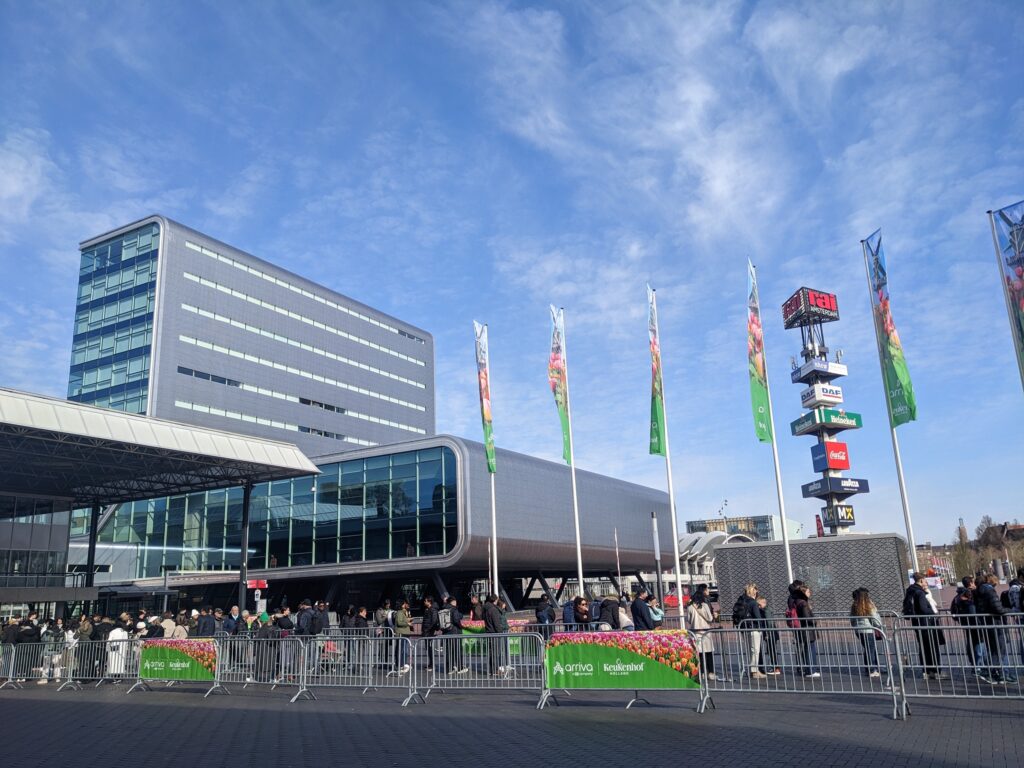 The ADS was well represented at CAA, with staff both chairing sessions and presenting papers.
For Jamie Geddes and I, it was our first venture into attending and presenting at a conference. We delivered a joint presentation entitled 'High Speed 2 and Unpath'd Waters: Keeping large projects FAIR' as part of a session co-chaired by Dr Holly Wright and Dr Sara Perry (MOLA) – How do we ensure archaeological data are usable and Reusable, and for whom? Putting the R in FAIR for archaeology's data. 
Our presentation was in two sections, and explored two large projects with which the ADS is in collaboration – the creation of the High Speed 2 digital archaeological archive; and Unpath'd Waters – an AHRC funded programme, which aims to unite the UK's maritime collections under one banner. The presentation examined ADS' role in disseminating the data generated by these projects, with a particular focus on the reuse potential of the data.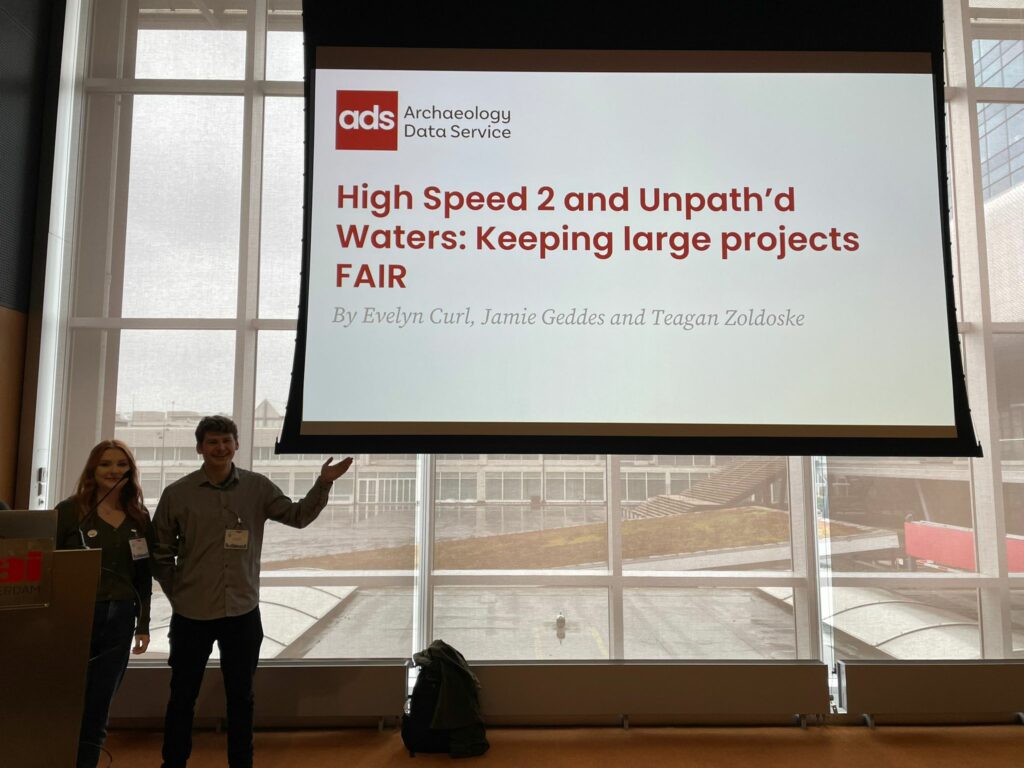 Once we finished our presentation, we were able to listen to some other great papers in the session.
A paper by Johanna Roiha at the University of Helsinki entitled 'Data from the past? The challenge of reusing the Finnish Heritage Agency's archaeological data gave an insight into how Finland manages its archaeological data, and had some great visuals including findspot map interfaces. I found this particularly interesting not only from the viewpoint of seeing how heritage data is curated and reused in another country, but also because links were made between the Finnish Heritage Agency and the Portable Antiquities Scheme in England and Wales, an organisation for which I volunteered in 2017.
As the theme of the session was data reuse, an enthusiastic discussion followed the presentations, particularly about how we define 'reuse'. For example, do we measure reuse qualitatively or quantitatively? And how much attention is paid to re-use as part of the FAIR (Findable, Accessible, Interoperable, Reusable) data principles? It was largely agreed that reuse is often confused with accessibility and interoperability, and that more needs to be done to fully understand reusability. The discussion was so engaging that we ran over the allotted time!
Other valuable ADS contributions to the conference included:
'25 years of archiving: Exploring what people see as deposit worthy' – a presentation by Teagan Zoldoske which provided a statistical ana

lysis of the types of data archived by the ADS. 

'Aggregating the UK's maritime data in Unpath'd Waters' – a presentation by Dr Julian Richards focusing on the wider scope of the Unpath'd Waters project and the ADS' involvement with maritime heritage data.

'Reuse and the Archaeology Data Service' – a presentation by Dr Holly Wright exploring how the ADS as a digital repository aims to make its data reusable, and an introduction to the

TETRARCHs

project.
Some more details about the ADS presentations are included in a news post here.
For all of us, the CAA conference was an excellent opportunity to meet with international partners, learn about new developments and research in the field of computational archaeology, contribute to wider discussions and continue to promote the ADS mission to the wider digital archaeology community