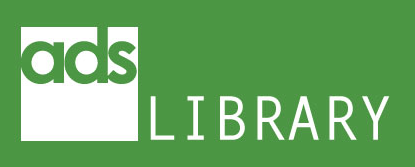 Thank you if you responded to the BIAB (British and Irish Archaeological Bibliography) user needs survey last year, we have now produced a mock up of the ADS Library system which reflects the survey responses. We have made the survey responses available in on the ADS blog.
The ADS Library will bring together bibliographic references and publications from BIAB, the ADS Library of Unpublished Fieldwork Reports, archived journals and research reports as well as references from other sources.
Link removed – Sorry the mock up consultation is now closed
The mock up is made up of a series of screen shots of what the new system could look like and the functionality it could include. Please use the comments area to leave any feedback you have, positive or negative, as if we don't know your thoughts now we cannot accommodate them in the final design. We would appreciate your comments even if you are not a user of the BIAB current system.
The mock up will be open for comments until Sunday 5th June.
Providing feedback will give you a real opportunity to influence the redevelopement of BIAB as the ADS Library.
If you have any questions about this, or the project in general, please contact the ADS via Jo Gilham on jo.gilham@york.ac.uk or 01904 323937.
Link removed – Sorry the mock up consultation is now closed