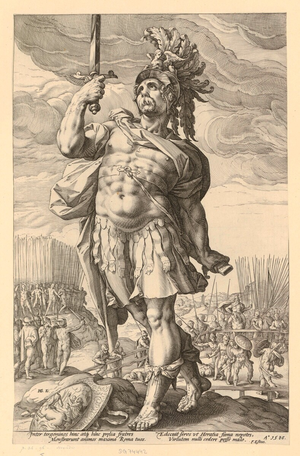 Publius Horatius by Hendrick Goltzius (Stecher_in) – 1586 – Albertina, Austria – Public Domain.
https://www.europeana.eu/item/15508/DG74442
The OASIS form is shortly to be redeployed (by the end of September 2023) with a number of improvements requested by users. These are primarily based on the Search, Results, and Summary pages. A full list is below:
Improvement: A filter for O2 users to see all records that have gone through the system as unreviewed (i.e. the review window has passed). This is called "HER Review date passed" and is under the Status dropdown on the Search page.
Improvement: Better explanation text for the Notifications page to help users understand what the Notification is for,and how it's triggered.
Improvement: new Notifications for HERs, with automated alerts sent out when a record is approaching 30 days and 7 days to the end of review window.
Improvement: Extra fields on the Search page to search on date record created and date record completed.
Bug: On the Search page, the ability to search on Site Code is now working correctly.
Improvement: Ability to search on records with a polygon uploaded, either in the location section or the Additional Information section (OASIS Scotland only).
Improvement: CSV export for Search results, this is in addition to the JSON option already available.
Improvement: Keywords page: building components thesaurus added to the list of thesauri (England – Buildings mode only).
Bug: Fixed issue whereby an organisation that hosted multiple HERs was getting incorrect/irrelevant records when using the CSV export option.
Improvement: the "search again" button is duplicated at the top of the page so as to reduce the amount of clicks to navigate back to the Search page.
Bug: "Sort by" break on the Search results page has been fixed.
Improvement: Scottish search page improved for HER and HES users, primarily so that results set is limited to just records that require review.
Improvement: Nearly 300 legacy records from England and Scotland were stuck with no Status. These have been updated and are now back in the main workflow.
Improvement: A general tidying of Scottish records and their Status after migration, so that they should have the expected Status and fields.
Bug: A small number of Scottish records were mapped to the wrong archive, these have been re-mapped.
Improvement: The DES Summary has been edited in-line with comments from users (OASIS Scotland).
Improvement: The main OASIS Summary has been edited to include fields such as Site Code.
Improvement: The PDF export of the OASIS Summary has been given tweaked to include more fields (such as Site Code), a title and a datestamp.
Bug: On the location page, when using the bin icon to remove a point – so either removing a single point (in the wrong place) and adding a new marker in map OR adding a new marker in the right place and then removing the old incorrect point -was generating an error upon save. This has been fixed.
Improvement: updated local authority boundary lookups to most recent version (April/2023). Associated with this has been an update to nomencalture to better define Ceremonial County and Local Authority Districts.
A more open-ended piece of work has been sorting out author records between OASIS and the ADS Library. A more detailed description on this piece of work is covered on the main ADS Blog. The result for OASIS users is that they should see:
Fewer duplicate author entries appearing in drop-down list of the report section, for example:

J Smith
John Smith
Smith, John
Smith, J
Smith JL
Smith J.

Entries linked to Library entries/ORCID identifiers have been improved.
Library entries have been cleaned wherever possible.
This work will continue wherever time allows, with nearly 100,000 unique entries in the author table we have not been able to address all known issues. Although much can be done programmatically a significant amount of work is still manual, especially to verify matches between potential duplicates.
The main objective is that authors recorded in OASIS are reflected in tidy Library equivalents such as https://archaeologydataservice.ac.uk/library/browse/personDetails.xhtml?personId=787 where all your work is recorded under your name.
The ADS are always happy to resolve any issues where authors have been mistakenly merged/duplicates or reports misassigned. Please contact the ADS with details of what needs to be ammeneded.
Forthcoming improvements
The focus over the next month is looking at other smaller improvements and tasks requested by the community, including:
Continuing to work with HES and DES on the DES export options, to ensure everything is 100% for the next reporting cycle.
Dealing with complex multipolygons and their impact on the reviewer page.
Adding the CoE HER as a new reviewer for CoE properties.
Continuing to update Research Framework Questions.
Bigger pieces of work are currently in the planning and/or review stage:
The ability for an HER to mark a record as "Not reviewed"
Ability to add a "decline report" with message function for HERs on the report page.
An optional human remains module – currently with review with relevant OASIS Board members and CIFA SIG.
An optional palaeoenvironmental module – currently at the scoping stage with specialist/user requirements being compiled by menbers of the Oxford Rewilding later Prehistory Project along with counterparts at Historic England.