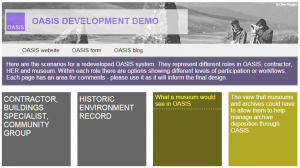 Thank you if you responded to the OASIS redevelopment survey over the summer, we have now produced a selection of scenarios which reflect the survey responses. We will be making the survey responses available in due course
http://oasis.ac.uk/form/redev_demo/
The mock up is divided into different scenarios for different types of user: Contractor, HER, Museum etc and each page has a comment area at the bottom. Please use the comments area to leave any feedback you have, positive or negative, as if we don't know your thoughts now we cannot accommodate them in the final design. We would appreciate your comments even if you are not a user of the current system.
The mock up will be open for comments until Sunday 8th February.
Providing feedback will give you a real opportunity to influence the redevelopment of OASIS.
If you have any questions about this, or the project in general, please contact the ADS via Jo Gilham on jo.gilham@york.ac.uk or 01904 323937.