A couple of weeks ago I was invited to talk to the Association of Local Government Archaeological Officers (ALGAO) at their Annual General Meeting. After they had completed the business of the day in the morning I was there to entertain them in the afternoon slot with a session on the HERALD project and the redevelopment of the OASIS system.
I talked about how we had planned the OASIS system over fifteen years ago, how it had developed and how the data from OASIS was now being used in numerous ways that we had never envisioned when the original form was released in the late nineties.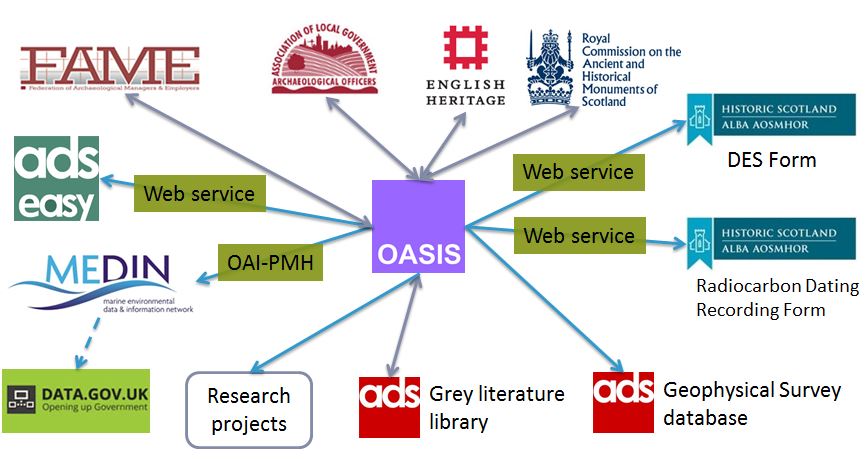 The age of the current system has led to the HERALD project which will find out how the archaeological community's user needs have changed in their requirements of the OASIS system and make recommendations on what a redeveloped OASIS system might look like.
Aside from giving information about HERALD and OASIS another reason for being there was to get feedback on the use of the OASIS system and to give a heads up on the HERALD user needs survey which will appear in June 2014 – next month! There was some lively discussion on the current use of OASIS mostly centring on how the work-flow of the current OASIS system doesn't always fit well in to the work-flow processes of an Historic Environment Records (HER). I also learnt that many of the HERs represented there did not download reports from OASIS as part of the planning related work but did use the ADS Grey Literature Library as a resource for finding signed off reports.
I hopefully allayed some fears voiced by some HER officers that the Archaeology Data Service (ADS), using  OASIS may be trying to become a UK wide HER. This is a question that was raised way back at the beginning of the OASIS system's launch in the early 2000s, but our position remains unchanged. OASIS is an internal system designed to collect and distribute resource discovery metadata and reports between interested parties in the heritage sector. The ADS is glad to receive, host and archive the reports and the metadata needed to search for them but we're happy to leave the HER role to the specialists!
It was a very useful day for me and thank you to ALGAO for inviting me to talk to them. I'll be doing a similar session for the ALGAO HER committee in June as well which will hopefully produce lots more feedback for the HERALD project.