Here's the next in the series of HERALD survey findings: 67 of the total 516 respondents classed themselves as volunteers or community archaeologists including local societies and independent archaeologists or researchers.
The responses sample size was quite small in comparison with other groups (12% of total respondents). However, the results did provide some insight into the nature of community groups and how they were using existing digital resources and some of the reasons for not using the current OASIS system.
The survey results indicated that the majority of respondents were individuals (83%) rather than part of an organisation, which suggests that there are a high proportion of individual archaeologists and researchers represented within the sample. The high number of individuals also highlights issues of how to communicate and engage with them and what channels would be most appropriate which will be addressed in more detail in the communication plan.
Those who responded on behalf of existing groups indicated that the average size of the groups was between 10 and 50 members. Nearly all of these groups were involved in some form of fieldwork that would equate to a fieldwork event and potentially result in a historic environment record(s) or enhancement of existing records, but only 46.8% of respondents used the existing OASIS system for recording projects. This highlights issues regarding how projects are being recorded and in what format to enable the flow of information from community archaeology projects to local authority historic environment records and online information portals.
The survey results indicated that the main benefit of using OASIS was to make reports accessible online via the grey literature library (37.5% of respondents), with 25% of respondents indicating that the creation of an OASIS record was part of their internal procedures. In the case of the latter trend, this might have been caused by the conflation of community groups with independent archaeologists and researchers. More investigation as to how community groups are organising and managing their historic environment information projects would help to clarify this trend and also highlight potential models for other groups to follow.
However, 52.2% of respondents did not attach reports to OASIS records with only 30.4% attaching the majority of their generated reports (between 76% and 100%). Despite 82% of respondents indicating that they provided reports digitally, only 50% were attaching reports to OASIS records. 39.1% said it was due to client confidentiality – which was an unexpected result for community groups and may indicate that these responses come from independent archaeologists or researchers. This issue could this be resolved by excluding personal details from reports and supressing grid references in a similar way to the way the Portable Antiquities Scheme handles sensitive information. 17.4% suggested that they did not provide digital copies of reports as they were awaiting traditional publication, which suggests that more information is required on the rules and regulations of producing a publication based on grey literature.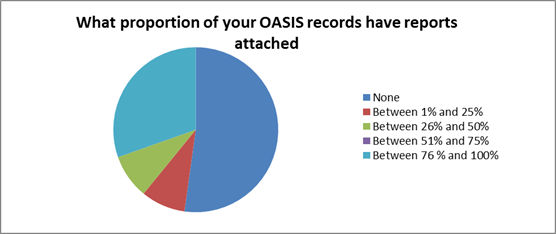 Only two respondents suggested that the reason they did not attach reports to OASIS was due to technical issues (e.g. the size of the file etc.) and this suggests the contrary to previous assumptions that community groups and local societies are less au fait with ICT. Issues regarding the compression of images in word and creating pdfs could be addressed through guidelines and training as well as easy to use tools associated with the OASIS upload process to adjust files.
The point at which an OASIS record was created differed significantly with the majority (37.5%) filling in the form once the report was complete and 20% creating a record at the start of a project. Many historic environment records create an event record prior to fieldwork undertaken as part of the planning process to track work (e.g. Norfolk HER). If the new OASIS service wants to improve collaboration within the historic environment sector (see TACOS), a discoverable record of work undertaken or proposed by community groups with contact details might facilitate better awareness of existing projects.
The validation and sign-off process for an OASIS record was flagged up by a number of respondents as an issue, with some indicating that records take a long time to be made publicly available because local authorities do not have the capacity to spend time/resources validating records.
94.4% of respondents thought that community archaeologists and independent researchers should use OASIS and over half of respondents (56.5%) felt that the use of OASIS controlled vocabularies and thesauri was a positive element of the OASIS system.
83.3% of respondents supported the development of a bespoke section of OASIS specifically for buildings and wanted both a record and attached report. At present HERs are not well-equipped (in terms of systems and staff time) to adequately record/index details such as building fabric and internal fixtures and fittings. A number of community groups and societies already undertake building recording and record enhancement projects (e.g. Norfolk Historic Buildings Group) and this type of community project could increase as the Grade II Heritage at Risk surveys are rolled out highlighting the need for standardisation to improve research potential of datasets to understand regional trends and help address research questions identified in research frameworks. It is possible that the use of an OASIS form could help to structure this type of project and enable more detailed records to be linked to a basic HER record.
47.6% of respondents wanted to investigate how to archive other digital data via OASIS.
The next instalment in the series will cover what Museum professionals think of OASIS.