With the exception of a couple of late comers we have closed the OASIS user survey. Very many thanks to all of you who took the time to fill in the questionnaire and a special thank you to those who have participated or are going to participate in telephone interviews. One of the things we will be doing early next week is holding the draw to identify the lucky winner of either a Google Nexus tablet or (my favourite) lots of Pizza Express vouchers.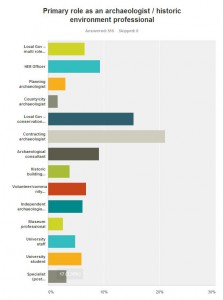 Even the preliminary look at the survey results are providing both interesting and useful for our redevelopment plans. We have had 515 responses in total and the breakdown of those responses can be seen below. When we have had a chance to delve into the questionnaires in more details and analyse them we should be able to start to identify how each of the sectors within the profession interact with OASIS or would wish to interact with it in the future.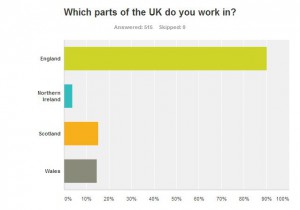 The vast majority of the results have come from those working in England, although we have had useful and informative responses from the other home countries too. This is especially important to us  as we want to take this opportunity to gather opinion from the OASIS-using  community in Scotland and also those in Northern Ireland and Wales who may wish to consider using the redeveloped system in the future if it fits with their current systems and working practices.
So what are the next steps?
We are going to spend a bit of time analysing the results of the survey and undertaking further work with English Heritage staff and hold a workshop in Edinburgh hosted by the RCAHMS to continue to refine and develop our plans for redevelopment. These will be shared with our project partners, ALGAO and the CBA, for their input too, and presented to English Heritage as our initial findings. We plan to finish this part of the work by the end of autumn so we can then spend time taking this information and creating some 'mock-ups' of potential work flows that we will ask users to 'rank'.  So there is still plenty of work to do but we will keep using this blog and attending events around the country to try and keep you all up to date with progress.