Guide to ADS Metadata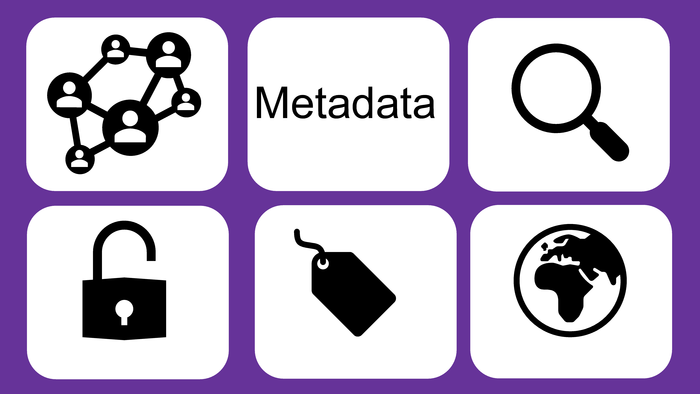 This document provides a descriptive overview of the flows of metadata to, within, and from the Archaeology Data Service (ADS). It is intended to act as a brief guide user to understanding how best to access metadata from a user perspective.
Types of Metadata
Metadata is simply data about data. It ensures that the data we hold can be managed, discovered, understood, and reused.
Broadly speaking, our data exists at two levels:
The Objects themselves (such as a Report, Database, or Shapefile)
Archives that contain multiple Objects that derive from the same project or undertaking
We follow the broad categories of metadata types used by the Getty Research Institute.
Administrative: the Metadata used in managing and administering collections and information resources (e.g. rights)
Descriptive: Metadata used to identify, authenticate, and describe collections and related trusted information resources
Preservation: Metadata related to the preservation management of collections and information resources
Technical: Metadata related to how a system functions or metadata behaves
Use: Metadata related to the level and type of use of collections and information resources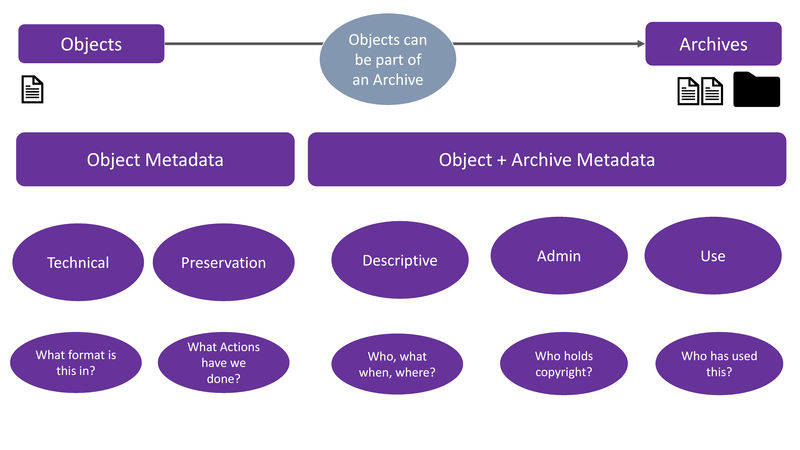 All types are broadly applicable to both Archives and Objects, although in practice the use of certain types is dependent on if we are documenting a single file, or a collection of files. For example Technical metadata such as where a file is stored within ADS systems, its checksum, content type and file format are all stored at the Object level.
Display and Storage of Metadata

Objects
Object metadata is usually presented directly associated with the Object itself. For Objects within Archives this is through a subset of the metadata displayed on the screen. Additional techincal and descriptive metadata is usually held in a separate file (itself an Object) presented in direct association with the file itself and available in the Archive interface.
An exception to this is those Objects which are documents, either unpublished reports, Journal articles, and Monographs. These Objects are presented within an application called the ADS Library. Each Journal article and Monograph has a metadata record within the Library application.
Archives
Although the type and scale of data may vary, each Archive is deposited with a core of project level metadata. The majority of this information is displayed on a Metadata page for each Archive. Descriptive and Use metadata is displayed, with links to any controlled vocabularies available as Linked Open Data. Administrative metadata - such as Copyright holder - is currently displayed on the main Archives pages in either the header, or left-hand sidebar.
Archives metadata is used within the Archives search page.
Archsearch
Metadata for all archives, and Object metadata for unpublished reports, is imported into the ADS Archsearch database. This enables our Open Access content to be cross-searched in one place, and alongside metadata harvested from UK historic environment inventories.
Machine access to metadata
A growing number of external services consume our metadata. For Objects this is primarily for documents such as unpublished reports and journal articles. For more details please see the Metadata Services page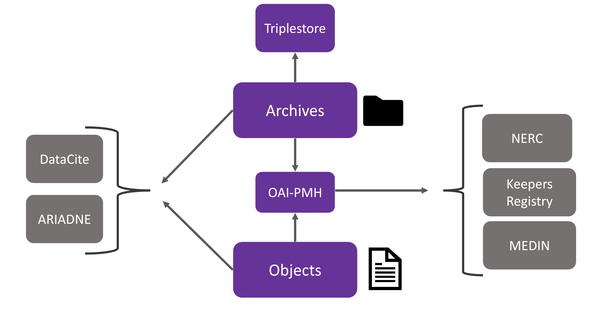 Persistent Identifiers
We use a number of Presistent Identifiers within our metadata.
A Digital Object Identifier (DOI) is created for each Archive, all unpublished reports, and most Journal articles (we do not create DOIs for Journal articles already creaating their own DOIs to avoid dupication and confusion to users).
ORCID Identifiers are collected to accurately define current Creators and Authors.
WikiData Q Codes are collected to define past and present Creators and Authors.