Strategy and Standards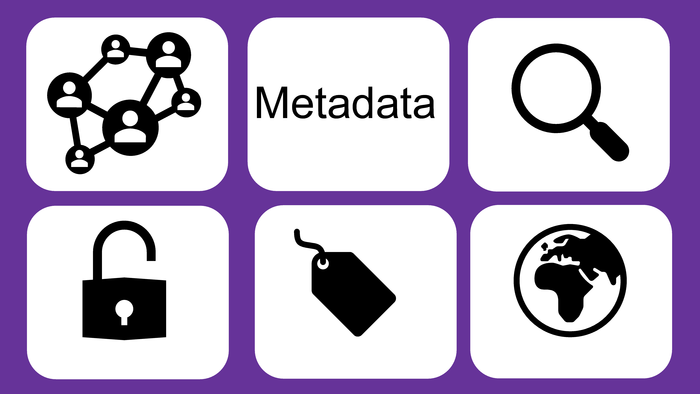 Metadata is the information we hold in order to manage, access, preserve and describe our objects, archives, and collections. This metadata is key to the delivery of our current and future services, including Resource Discovery.
Metadata Overview
Metadata is simply data about data. It ensures that Archives - and the Objects within Archives - can be managed, found, understood, and re-used. We follow the broad categories of metadata types used by the Getty Research Institute.
Administrative: the Metadata used in managing and administering collections and information resources (e.g. rights)
Descriptive: Metadata used to identify, authenticate, and describe collections and related trusted information resources
Preservation: Metadata related to the preservation management of collections and information resources
Technical: Metadata related to how a system functions or metadata behaves
Use: Metadata related to the level and type of use of collections and information resources
The Guide to ADS Metadata provides more detailed explanation on where, and how metadata is presented on the ADS website.
Curatorial Strategy
This documents aims to assess the current situation regarding the metadata collected by the ADS to describe its collections, and the objects and files within those collections, and to put forward a vision and pathway to achieving a richer value-added archive through more efficient and effective metadata collection, creation, and use.
Linked Data Strategy
This document aims to provide a definitive vision for all aspects of Linked Data within ADS workflows: primarily what we want to achieve, and also a preliminary roadmap for doing so.
| Version | Status | Created Date | Last Updated | Review | Availability |
| --- | --- | --- | --- | --- | --- |
| 1.4 | CURRENT | 2020 | 02 October 2020 | September 2021 | Linked Data Strategy (PDF) |
Licencing and Open metadata
To make our metadata available to a wide audience, and to encourage re-use and innivation, all ADS metadata is distributed under a Creative Commons Zero (CC0) in line with existing open metadata services.
Standards
We take an active role in making sure our metadata conforms to recognised international standards, and using structures that make us interoperable with Heritage and Digital Preservation organisations. We follow the broad classifications of data standards used by the Getty Research Institute.
Data structure standards
Our metadata structure for Administrative, Descriptive, and Use, uses the Dublin Core Metadata Element Set (DCMES) plus DCMI recommended qualifiers. Our Object-specific structure (Preservation and Technical) uses the PREMIS (PREservation Metadata: Implementation Strategies) Standard to model entities associated with the digital preservation process.
Our metadata structure has been mapped to:
Data value standards
We use the following controlled vocabularies, thesauri, and controlled lists to populate our data structure standard: