Identifying copyright
All material on this website is protected by copyright. The vast majority of our data collections are supplied to us by depositors who licence us to distribute and preserve data on their behalf. This non-exclusive ADS Deposit Agreement specifies the conditions under which we can distribute and preserve data but does not transfer ownership of copyright. The following guide explains how to identify copyright holders and reuse and access licences in our different resources.
Data Archives
All ADS archive collections state the copyright holder and reuse licence information on the left hand side of each collection page, as outlined in red in the image below. The full reuse licence can be read by following the link.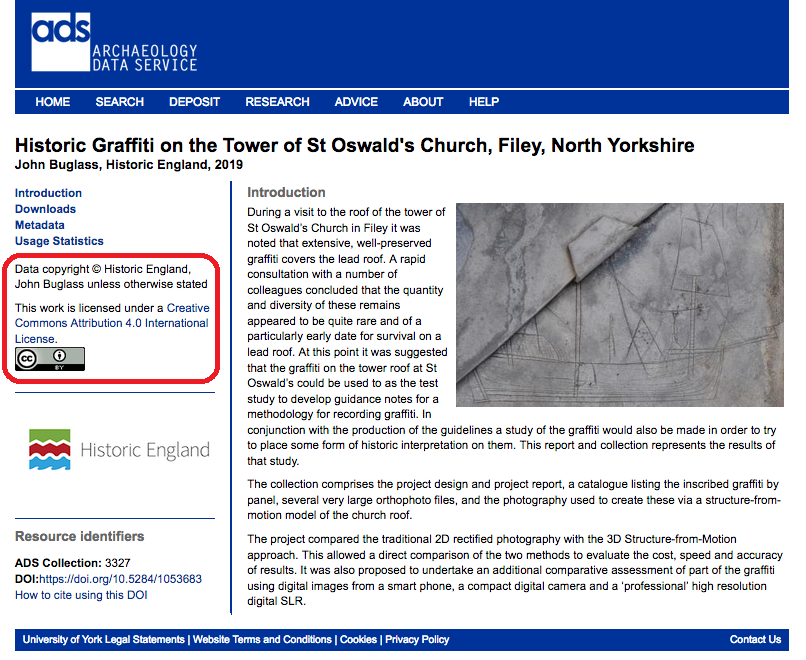 The most common reuse and access licences used for ADS collections are the, ADS Standard Terms of Use and Access and the Creative Commons Attribution 4.0 International Licence as shown below.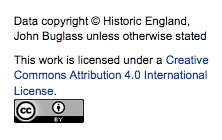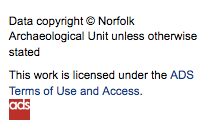 Other licences may be used that more strictly limit what you can do with the archived data. Before using data from any archive you should read the relevant licence to ensure you can use the data for the purposes you intend.
In some instances, individual files within a data collection may have a different copyright holder. When this is the case the copyright holder will be clearly identified on the files downloads page.
ArchSearch Records
Access to and use of ArchSearch records are subject to the conditions set by the Creative Commons License Attribution 4.0 International Licence The copyright holder for ArchSearch records is the Data Creator. This can be found under the People Involved heading within each ArchSearch record.
ADS Library Items
Access to and use of the ADS Library as a service falls under the ADS Website Terms and Conditions. When a file is available to be downloaded the copyright is generally held by the author(s) of the publication, although in some cases this may be an organisation(s). The reuse licence used for items in the ADS Library archive are most commonly the ADS Standard Terms of Use and Access or the Creative Commons Attribution 4.0 International Licence. You can find which re-use licence the downloadable item falls under in the Reuse Licence field in the ADS Library Record. If there is no reuse licence clearly identifiable the item will fall under the ADS Standard Terms of Use and Access.